Welsh Fare
Welsh Fare Homepage
Cree Cake
Swansea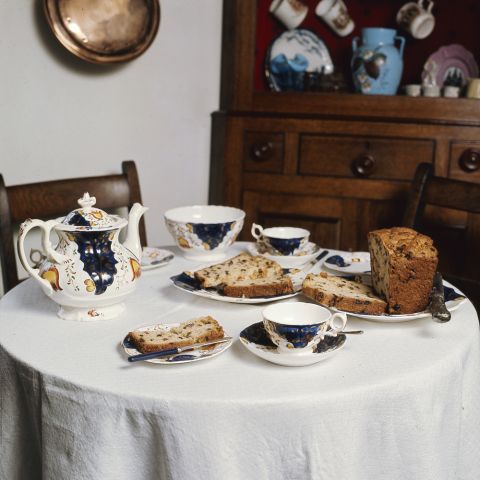 Lard procured from the layers of fat around the pig's abdomen was invaluable to the housewife for making cakes and pastry. These layers, cut into small pieces and placed in a large saucepan or boiler, were melted down gradually over a low heat. The fat was then poured through a fine sieve and stored in earthenware jars or in any other suitable container. The pig's bladder would be used for this purpose in many districts.
The small, crisp pieces left over when all the lard was rendered were commonly known in Welsh as criwsion or creision. Cree, scruggins and scrutchins were the English equivalents used in different parts of Wales. Tossed in oatmeal and seasoned with salt and pepper, they were eaten with bread and butter. Alternatively they were put in a cake mixture instead of ordinary fat.
The Recipe
You will need
one pound self-raising flour
three quarter pound finely diced cree
half a pound sugar
a little milk and water
Method
Put all the dry ingredients in a mixing bowl and gradually add the milk and water mixture to make a soft dough.
Turn out on to a well-floured board and roll out to a thickness of about one inch.
Place in a greased shallow tin, sprinkle with a little sugar and then bake in a moderately hot oven for about half an hour.
Swansea, Glamorgan.
Adding a small quantity of currants to the above recipe, and baking the rolled out dough on the bakestone was a common practice in other districts.
Gower Peninsula.