Shaping our contribution to national events through public consultation
During the Urdd Eisteddfodau 2008 we discovered what visitors to national events like these found most enjoyable and successful.
You said
We did
You liked family events and activities where children were able to learn about the Eisteddfod and the Museum, and were kept entertained!
You liked finding out about how the museum related to the location of each Eisteddfodau.
You liked talking to staff about objects and memories that were important to you.

In 2010 we included lots of activities for families and young people, and promoted the National Wool Museum at Drefach, as this was the closest museum to the Urdd Eisteddfod at Llanerchaeron.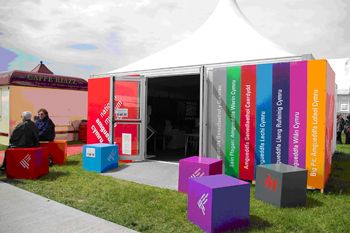 During the National Eisteddfod at Bala in 2009 we discussed the future direction of St Fagans
Key themes were introduced to visitors:
Ancient People and Early Places
Living Buildings
Daily Life
Humans and the environment
Encounter and Exchange
Conflict and Peace
Religion and Belief
120 visitors over an 8 day period were asked a range of questions including:
Which themes they thought were the most important for a national museum in Wales, in telling the stories of the peoples of Wales, to all our visitors and why
Which theme they personally liked the most, and why
Which other theme(s) they would choose, and why.
The event successfully introduced the re-development project to visitors, and informed people that the Archaeology collections were being moved from the National Museum Cardiff to St Fagans. Many visitors used the opportunity to reconfirm their admiration for St Fagans as being the place to take their families and friends, highlighting key areas that were important to them. The event successfully demonstrated the relevance of St Fagans which is in south Wales, to the whole of Wales.