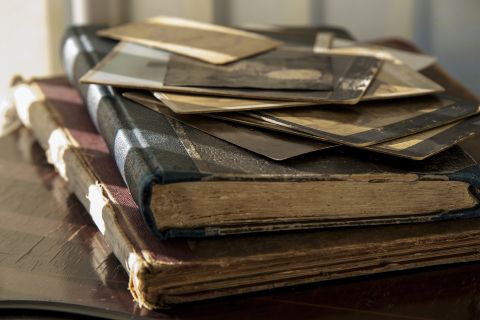 Sound
The tape-recording of people on all aspects of folk life and culture has always played an important part in the work of the Museum. Collecting in the field was begun in 1957, the oldest interviewee on tape having been born in 1858.
The sound archive's growing collection now includes over 9000 field recordings, many BBC recordings (on both tape and disk), over 1000 commercial disks and some early phonograph cylinders.
Most of the collection is in the Welsh language, priority having been given to recording informants in areas where both the language, the local dialect and the traditional way of life was under threat. However, there is also a considerable amount of English language material, mainly from the anglicised areas, such as the south-east, the border counties, the Gower and South Pembrokeshire.
Film and Video
The Museum has a collection of approx. 50 hours of 16mm film footage. Much of this is material shot during the 1970s by curatorial staff who were anxious to record a way of life that was fast disappearing. Using a hand-cranked Bolex cine camera, they made silent colour films of traditional farming techniques, foods, and crafts.
As well as these fieldwork films, we have 16mm material which was either donated to the archive or acquired from television companies, such as the BBC and TWW, following a collaborative project with Museum staff.
Among these there are films of the Mari Lwyd in Llangynwyd in the 1960s; Hywel Wood the Welsh gipsy clog dancing in St Fagans Castle kitchen; and a copy of Y Chwarelwr (The Quarryman) - the first Welsh-language talkie.
Photography
The Photographic Archive contains approximately 150,000 negatives and prints, and approximately 15,000 slides. Ever since St Fagans opened in 1948 the staff have been taking photographs of Welsh folk life. The Archive holds, besides these, a wealth of much older photographs which are either originals acquired as donations, or copies made from originals loaned to the Museum for this purpose.
The Photographic Archive is used extensively by researchers, and especially by publishers and the media.
Manuscript
The St Fagans archive consists of material in manuscript form, such as:
farmer's diaries
craftsmen's account books
apprenticeship indentures
books listing sheep ear-marks
bidding letters (printed)
school exercise books
inventories
eisteddfodic compositions
relevant research theses
printed ballads, carols and anthems
Other substantial collections include:
Responses to Questionnaires
During the 1930s it was realised that the National Museum should embark on collecting information throughout Wales on various aspects of its folk culture. A detailed bilingual questionnaire was compiled in 1937 and widely circulated. The responses to the questionnaire, as well as those to a questionnaire on agricultural vocabulary distributed by the University of Wales' Guild of Graduates around the same time, are now in our archive.
St Fagans' "Answer Books"
During the 1960s, the Museum's Department of Oral Traditions and Dialects sent out 'Answer Books' to various persons in Wales who were considered to have specialised knowledge in certain fields. Very favourable replies were received, and some of these books are thought to be among the archive's most important sources of information. They include detailed and valuable notes on topics such as:
old farming methods
fairs
medicines and other folk customs
pastimes
traditional foods
crafts and rural craftsmen
dialects and sayings
reminiscences of life in rural Wales from the end of the 19th century.
The Museum's Accession Correspondence
The Museum's accession correspondence, nearly complete from 1885, is another important archival source. Some of these letters contain valuable information on the Museum's holdings and photostat copies have been made of them.
Special collections
The archive also contains the manuscript collections of a number of noted Welsh antiquarians e.g.
Evan Jones (1850 -1928) Tŷ'n Pant, Llanwrtyd, who spent many years collecting the folklore and history of his part of Wales
Rev. W. Meredith Morris (1867 - 1921), Clydach Vale. Of particular interest are his manuscripts relating to the crwth and fiddle and his dialect and folklore studies of Pembrokeshire.
T.C. Evans ('Cadrawd') - antiquarian, local historian and collector of Glamorgan folklore. His many papers have been dispersed between the National Library of Wales, Cardiff Central Library and St Fagans.
Contact Us