Press Releases
Major new installation by Cerith Wyn Evans unveiled in Cardiff
Date:
2018-03-09
The internationally acclaimed artist Cerith Wyn Evans today unveiled a major new neon sculpture at National Museum Cardiff. The work, Radiant Fold (…the Illuminating Gas) (2017/18), has been created specifically for Amgueddfa Cymru – National Museum Wales and is the second donation made through the Contemporary Art Society's Great Works scheme.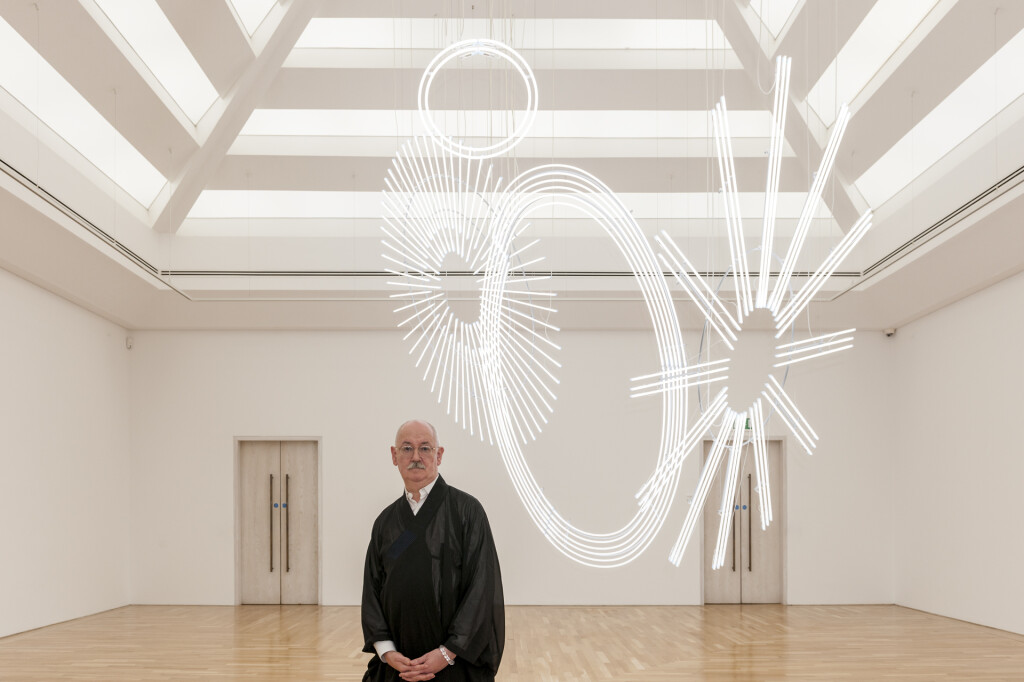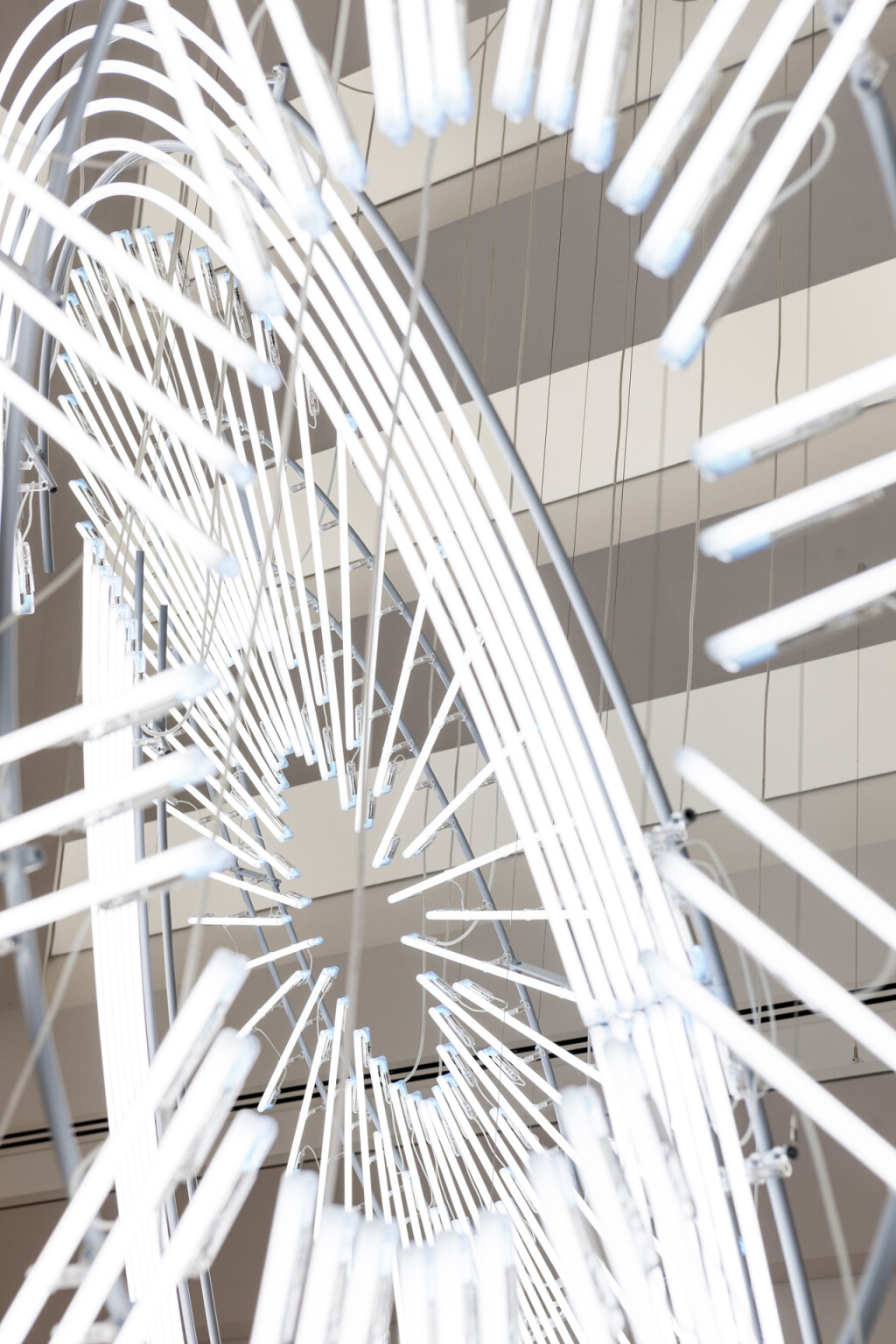 Radiant Fold (…the Illuminating Gas) draws inspiration from the mysterious forms in Marcel Duchamp's iconic work The Bride Stripped Bare by Her Bachelors, Even (1915-23). Three vast discs in bright white neon recreate the forms of Duchamp's original into three-dimensional and multi-dimensional objects. Suspended from the ceiling at a skewed angle and developed with reference to the architecture and history of the museum, the work imposes a foreshortened perspective, evoking unfamiliar registers of perception and creating a rupture in the visual field.
The Great Works scheme, generously supported by the Sfumato Foundation, aims to tackle the absence in UK museums of works by major British artists over the last 20 years. This will be the first large-scale neon sculpture by Cerith Wyn Evans placed in a UK museum collection and Amgueddfa Cymru is significant to the artist as one of the first places he experienced art as a child. Last year the first acquisition made through the Great Works scheme was a major new painting by Glenn Brown for the Laing Art Gallery in Newcastle.
Nicholas Thornton, Head of Fine Art, Amgueddfa Cymru - National Museum Wales: "Cerith Wyn Evans is one of Wales' greatest artists who has established an international profile through a series of important exhibitions and prestigious commissions. The fact that his work was not represented in the Wales' national collection has been a huge gap that the Museum has been anxious to fill for many years. The Great Works award has given us a unique opportunity to acquire a major work by Cerith that has been specifically developed for the spaces of the Museum. Radiant Fold (…the Illuminating Gas) is a stunning addition to the collection and one that the Museum would like to thank both Cerith and the Contemporary Art Society for making possible."
Caroline Douglas, Director of the Contemporary Art Society: "Cerith Wyn Evans has established an important international reputation over the last 30 years but he still maintains a strong emotional connection to Wales. It seems absolutely self-evident that the National Museum of Wales should have a major work of his. It has been wonderful working with Cerith and being part of a conversation around this commission. Neon is the medium for which he has become best known, particularly after his spectacular Tate Britain Commission in 2017, and I'm sure that Radiant Fold (…the Illuminating Gas) will delight and intrigue audiences in Cardiff for years to come."
This new work will go on display in Gallery 24 from 10 March to 2 September 2018.
For over 100 years the Contemporary Art Society has continually channelled philanthropic support of contemporary art to museums across the UK. In addition to landmark gifts to Tate, that included the first Picasso, Matisse, Anthony Caro and Damien Hirst to enter a UK public collection, the Contemporary Art Society has a track record of substantial support to regional museums, including the first work by Francis Bacon to Huddersfield in 1952, an installation by Olafur Eliasson to Eastbourne in 2003 a piece by Kader Attia for Middlesbrough Institute of Modern Art in 2016 and most recently an installation by Dineo Seshee Bopape to the Towner Gallery in Eastbourne in 2017. The National Museum Wales has also received a number of significant gifts from the CAS since the organisation was established in 1910, including works, amongst others, by Andrea Büttner, Patrick Caulfield, Henri Gaudier-Brzeska, Duncan Grant, Patrick Heron, John Hoyland and Joan Miró.
The Great Works Scheme is generously supported by the Sfumato Foundation.
ENDS
NOTES TO EDITORS
About Great Works application process
Great Works enables one major work by a leading British artist to be purchased each year for a UK museum or gallery. The 70 museums across the UK that make up the CAS's Museum Membership are eligible to apply for the award, the majority of which are outside London. Applicants are asked to make a strong case for how an acquisition of this scale would benefit the institution in relation to their audiences, scholarship and profile of the museum. In particular, the successful applicant will make the case for the acquisition of work by an artist with a substantial connection to the museum's existing collections, city or region.
About Cerith Wyn Evans
Cerith Wyn Evan's artistic practice focuses on how ideas can be communicated through form. His conceptual work incorporates a diverse range of media including installation, sculpture, photography, film and text. Cerith's major new solo exhibition opens at The Tamayo Museum, Mexico, in February 2018. Other solo exhibitions include the Tate Britain Duveen Commission, London and Haus Konstruktiv, Zurich (both 2017); Museion Bolzano, Italy (2015); Serpentine Sackler Gallery, London (2014); TBA-21 Augarten, Vienna (2013); De La Warr Pavillion, East Sussex, UK (2012); Kunsthall Bergen, Norway (2011); Tramway, Glasgow (2009); Inverleith House, Edinburgh (2009); MUSAC, Leon, France (2008); Musée d'art moderne de la ville de Paris (2006) and Kunsthaus Graz (2005). Wyn Evans has participated in numerous international group exhibitions including Skulptur Projekte Münster, Germany and the 57th Venice Biennale (both 2017); 'Moscow Biennial' (2011); 'Aichi Triennale' Nagoya, Japan (2010); 'Yokohama Triennale', Japan (2008); 'Istanbul Biennial' (2005); and represented Wales at the 50th Venice Biennale (2003).
Cerith Wyn Evans lives and works in London and is represented by White Cube, London and Hong Kong.