Press Releases
Dippy the Diplodocus, the UK's most famous dinosaur opens at National Museum Cardiff
Date:
2019-10-19
The Natural History Museum's dinosaur arrives in Wales as part of a UK tour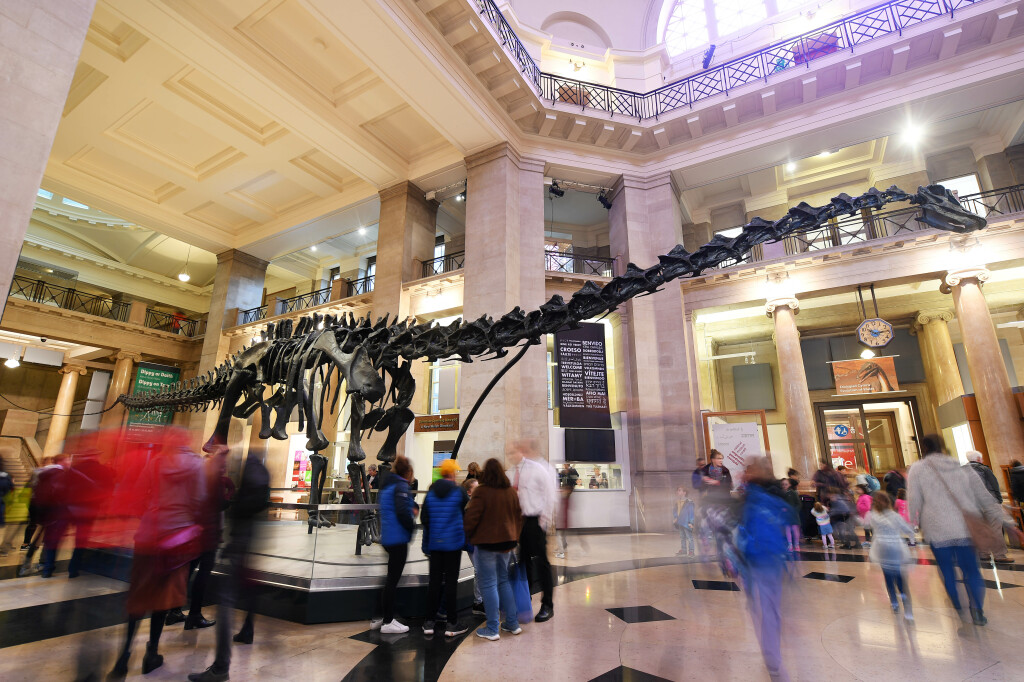 After months of anticipation, visitors can now come and see Dippy up close in Wales as the Dippy on Tour exhibition opens at National Museum Cardiff. Entry is free, and Dippy will be located in the main hall of the museum from 19 October 2019 – 26 January 2020.
Dippy on Tour: A Natural History Adventure has been brought about by the Natural History Museum, in partnership with the Garfield Weston Foundation and supported by Dell EMC and Williams & Hill, working with partners UK wide to tour one of its most iconic exhibits over three years. National Museum Cardiff has received the generous support of Admiral, Great Western Railway and John Lewis and Partners' Cardiff store in bringing Dippy to Wales. The support of all of our partners makes it possible for families to come together to experience this once in a lifetime exhibition.
David Anderson, Director General for Amgueddfa Cymru – National Museum Wales said, 'Dippy is here and it's fantastic to welcome this iconic dinosaur to Wales. We know our visitors can't wait to meet him and I know that the people of Wales will give him a warm, Welsh welcome.
We're thrilled to be the only venue in Wales to be hosting the iconic dinosaur and we hope that after seeing Dippy visitors are inspired to explore, discover and protect the nature on their doorstep.
Dippy starts a vital conversation about the importance of caring for our natural world and it's great to be making the connection with our own scientific collections here in the museum.'
In Cardiff there will be an exciting programme of events for Dippy on Tour including talks, workshops, exciting Dippy Dino Night sleepovers and silent discos. There is also a unique opportunity to stretch under Dippy's gaze in a relaxing yoga class.
Alongside the Dippy exhibition, the museums' youth forum have taken over one of the museum's gallery spaces. Within this space, the young people have been hard at work using second hand clothes to create sculptures of dinosaurs and other extinct creatures as a commentary on the effect fast fashion and waste is having on our environment.
Director of the Natural History Museum London, Sir Michael Dixon, said, 'It is with great excitement that we welcome Dippy to the National Museum, Cardiff.
His arrival in Wales most likely makes him the first diplodocus to have visited all four corners of the United Kingdom. With every venue of the tour so far receiving record visitor numbers we are sure he will once again prove to be a hit.
Along with help from the National Museum, Cardiff's youth panel we are looking forward to Dippy continuing to Inspire a love of the natural world and create advocates for the planet.'
Deputy Minister for Culture, Sport and Tourism Lord Elis-Thomas, said: "I'm delighted that the Natural History Museum has worked with Amgueddfa Cymru - National Museum Wales to bring Dippy to Cardiff. It's a fantastic opportunity to see the UK's most famous dinosaur with an excellent programme of activities planned to support the visit. Croeso i Gymru Dippy!"
As part of a road trip across the UK, Dippy is venturing out of London for the first time since 1905. Dippy will visit National Museum Cardiff in the capital's city centre as his only stop in Wales - and he's on a mission to inspire five million natural history adventures, encouraging everyone to explore the natural history collections and biodiversity right on your doorstep in Cardiff.
As well as being able to marvel at Dippy, National Museum Cardiff visitors can visit the natural history galleries, taking a journey from the very beginnings of time to the present day in the Evolution of Wales galleries, coming face-to-face with amazing animals and more dinosaurs, including the Dracoraptor hanigani – the Welsh dinosaur discovered by brothers Nick and Rob Hanigan at Lavernock beach, just 8 miles away from National Museum Cardiff.
Dippy is cast from a near complete Diplodocus skeleton discovered in Wyoming, America in 1898. The specimen is made up of 292 bones and is an impressive 21.3 metres long, 4.3 metres wide and 4.25 metres high.
Philippa Charles, Director of the Garfield Weston Foundation said, 'We are delighted that Dippy is now ready to welcome visitors in Wales. Dippy's mission to inspire people to explore the nature on their doorstep and think about their role in our world is more important than ever and we know he will receive a very warm reception at National Museum Wales.
Admiral is the Wales Sponsor for Dippy on Tour and have supported National Museum Cardiff in being able to bring Dippy to the capital city for everyone to enjoy. Natalie Grimwards, Communications Manager for Admiral said "We're thrilled to help welcome Dippy to Cardiff. From lunchtime talks in the office to tickets and special offers for the various Dippy related events, we're pleased our sponsorship means our staff and their families will be able to join in the fun."
For more information visit museum.wales/dippy