Press Releases
Local marketer scoops national award for marketing excellence
Date:
2015-03-13
Marie Szymonski, Marketing & Communications Officer at the National Waterfront Museum in Swansea has recently been awarded Museums Marketing Champion of the Year at a prestigious awards event in the National Library of Wales.
The Marketing Excellence Awards recognise the fantastic work being done by staff in museums, archives and libraries across Wales, often with very limited resources.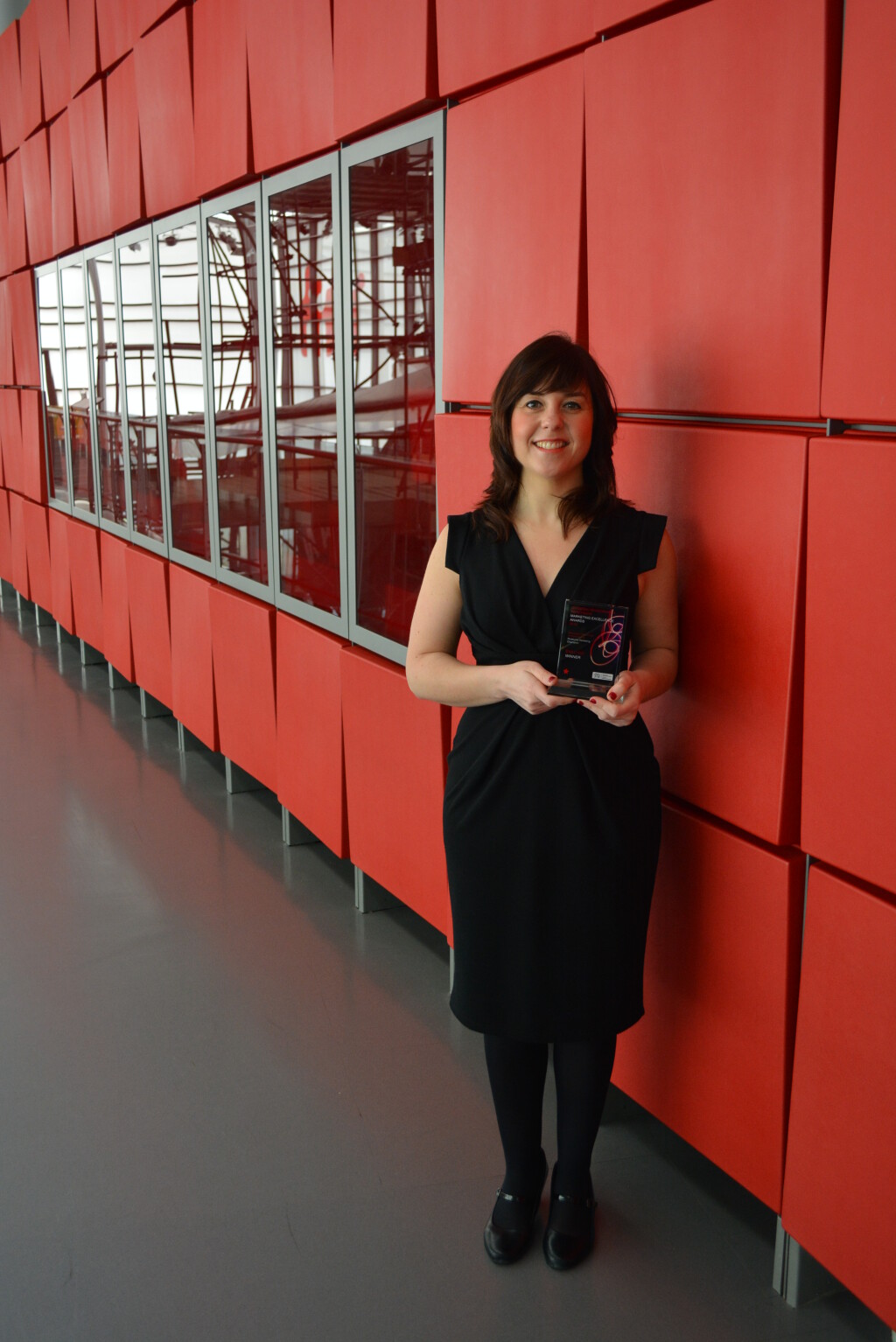 Over 40 entries were submitted to this year's Marketing Excellence Awards from libraries, museums and archive services across Wales. Categories included: demonstrating marketing excellence; joint marketing project of the year and marketing champion of the year.
Speaking about Marie's award, Steph Mastoris, Head of the National Waterfront Museum said:
"This is a wonderful achievement for Marie and it is testimony to the huge amount of creative and imaginative work she has done for National Museum Wales over the last 6 years. In particular she has transformed the digital marketing approach at the National Waterfront Museum and has put us firmly on the map as a key attraction in the Swansea region."
June Francois, Head of Marketing at National Museum Wales and who nominated Marie said:
"Marie is a true marketing hero and can claim many successes to commend her as a marketing champion from achieving record visitor figures, nurturing positive stakeholder relationships, generating new income streams and making effective use of new marketing techniques to reflect changing consumer trends and developments in technology. Her constant enthusiasm, bubbly personality and 'can do' attitude makes Marie an extremely supportive colleague and team player who is effective at galvanising support within the Museum for marketing."
The awards were part of the Welsh Government's Attracting the Audience programme for museums, archives and libraries, and Deputy Minister for Culture, Sport and Tourism, Ken Skates, commented:
"We want to see as many people as possible using our excellent library, museum and archive services across Wales so that they can benefit from what's available. Marketing plays an important role in encouraging people to use these facilities and I'm pleased we are recognising the positive work being done across the sector, despite the challenges.
"The standard of entries in this year's awards has been excellent; it's pleasing to see so many examples of good practice within these sectors and some really innovative ideas."
Attendees at the event in the National Library of Wales had the opportunity to hear more about the winning entries, meet the judge and hear from guest speakers talking about social media and press engagement.
All entries were judged by Dr Jonathan Deacon, Reader in Entrepreneurship and Marketing at the University of South Wales and Trustee (former Chair) of the Chartered Institute of Marketing Cymru.
Winners received a trophy, certificate and a variety of prizes including marketing workshops and specialised equipment to enable them to further develop their skills and enhance their marketing activities.