Press Releases
Amgueddfa Cymru's drive to remove single use plastic from its cafes
Date:
2018-05-14
The National Waterfront Museum's newly branded café Y Cei in Swansea is spearheading Amgueddfa Cymru – National Museum Wales's drive to remove all single use plastic from its cafes.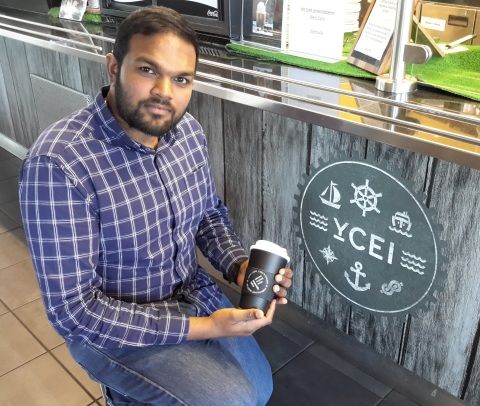 Out has gone plastic straws, cake wrappings, plastic bottles and sauce sachets – in has come vegetable-based straws, paper sandwich wrap, compostable takeaway cups and lids, and recycleable glass and cans for drinks.
Y Cei is also introducing its own brand reusable cups which can be refilled at the café for a discount off the drink price, while Amgueddfa Cymru branded reusable cups are now stocked in all its sites' shops.
Sathia Lackhmanan, catering manager at the Waterfront, has even had to ditch crisps, as he hasn't yet found a supplier which doesn't use plastic. And he is also planning to move to loose-leaf tea – cutting out the need for and waste of teabags. 'As it is Wales's Year of the Sea, and the café is right on the waterfront, reducing the waste that goes into the oceans is very important to us,' Sathia says. 'If we can make small changes right now, then in 100 years it will have a big impact – we need to do this for future generations.'
The café's stance on cutting out plastic is leading the way for Amgueddfa Cymru's seven sites to follow. Already the National Wool Museum near Llandysul has ditched plastic straws and organised a beach clean, while the café at National Museum Cardiff now offers paper cones instead of plastic cups for water. Other moves to reduce plastic pollution will continue to be rolled out across all sites.
And some of the thrown away plastic is being used by Amgueddfa Cymru to create artwork to raise awareness of plastic pollution of our oceans in Wales's 2018 Year of the Sea.
The Museum's Youth Forum in Cardiff is working with Surfers Against Sewage and Wales's Wildlife Trust to organise beach cleans, with some of the plastic debris brought back to create displays, and for use in workshops at Museum sites to highlight the plastic problem.
The sea pollution subject is already one the National Museum Cardiff acknowledges – one of its prize exhibits, the largest Leatherback Turtle ever recorded, which featured in the Guinness Book of World Records, was washed ashore on Harlech beach, Gwynedd, in September 1988. Sadly, the turtle had drowned after being trapped by fishing lines and a post mortem revealed its stomach was full of plastic.
The Youth Forum is also producing workshop packs and flyers to help the public understand the problem and how they can help in the fight against single use plastic. Free drop in Sea Plastic workshops will take place at National Museum Cardiff from 29 May- 1 June, and at the National Waterfront Museum in Swansea on 2 and 3 June.
And Nia Lloyd, marketing and communications officer for Keep Wales Tidy, says, "It's great to see Y Cei showing their environmental pledge by reducing single use plastics within the café. Measures like this will make a different not just to the amount of litter on the streets, but also the plastic pollution in our oceans. It's crucial for everyone to understand how litter from land ends up in our rivers and oceans and act together to tackle this problem".