Press Releases
"King of Painters" comes home to Wales
Date:
2019-06-27
One of Wales most famous artists – if not in his home country! – will be honoured with a new exhibition at the National Waterfront Museum in Swansea later this month.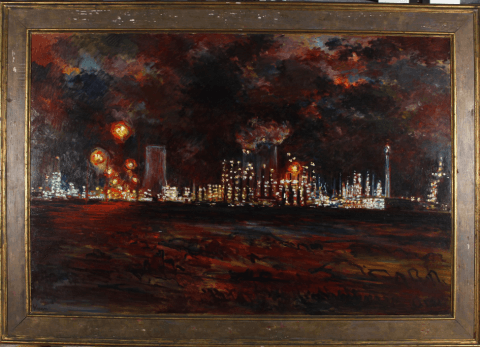 Andrew Vicari was a small town boy from Port Talbot who went on to be the official Gulf War artist in 1991 and to paint the portraits of most of the Saudi Royal family, as court painter to both them and Monaco's royals, earning the title "the King of Painters, the Painter of Kings".
Yet despite exhibiting across the world, having three galleries dedicated to his works in Saudi Arabia and being only the fourth Western artist to exhibit in the People's Republic of China (the others included Rodin and Chagall) his work was not as feted in Wales.
Now the National Waterfront Museum plans to show off his talents with items including a picture painted for and rescued from the BP chemical plant in Baglan Bay (see how it came into the Museum's collection) and a collection of the painter's personal effects, including a hat given to him by "Stormin'" Norman Schwarzkopf, who led the coalition forces in the Gulf War and became a friend.
Vicari's nephew, also named Andrew, is looking forward to seeing the exhibition. "Despite not having any regrets, I know my uncle would love to have had greater recognition in his homeland as a passionate Welshman and huge ambassador for Wales. It is a shame that this wasn't achieved during his lifetime, despite a long list of achievements and accolades internationally.
"One of the last things he said to me was that he hoped his legacy would shine on long after he had gone. I naturally felt compelled to do something to ensure his final wish was fulfilled and duly contacted the National Museum of Wales shortly after his passing. It brings me enormous pleasure to know that he will finally get the recognition he deserves in his homeland through this exhibition, for which my family and I will be eternally grateful. We look forward to celebrating the wonderful life of an extraordinary man."
The exhibition, Andrew Vicari – King of Painters, Painter of Kings opens at the National Waterfront Museum on Saturday 13 July, with support from the People's Postcode Lottery.