Press Releases
Celebrating Black Lives in Amgueddfa Cymru's new digital arts magazine
Date:
2020-10-13
Amgueddfa Cymru – National Museum Wales is (today 13 October 2020) launching its first digital arts magazine, Cynfas (www.museum.wales/Cynfas) to promote the health and wellbeing of the people of Wales through arts and culture. This first edition focuses on Black History Month and is edited by Amgueddfa Cymru Producer, Umulkhayr Mohamed.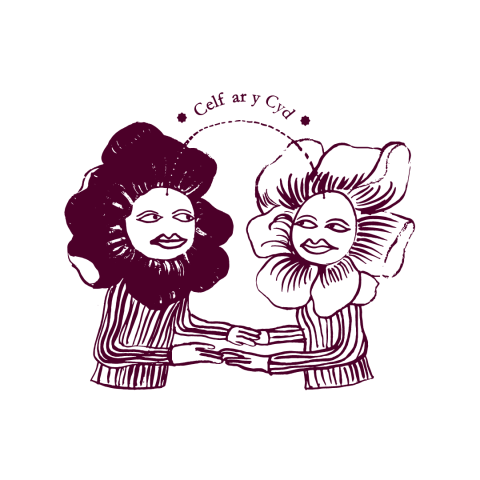 The magazine is the latest initiative, as part of the Celf ar y Cyd ('Art in Collaboration') project, to be launched in partnership with the Arts Council of Wales and the Welsh Government.
Cynfas aims to engage diverse voices in conversation around the national art collection at Amgueddfa Cymru, and encourage debate about visual cultures in Wales in a monthly magazine format, to be hosted online. The magazine will feature articles and online art projects on the Cynfas webpage, and its contributors include writers from across Wales.
October's edition brings together new stories about Amgueddfa Cymru's art collection, including poet and activist Cindy Liz-Ikie's examining the depiction of the afro by British sculptor, Henry Ward.
Sharon Kostini and Maoa Eliam take a historical look at the value and use of gold in African fashions throughout the ages and Korkor Kanor's uplifting piece on Ndidi Ekubia's The Punchbowl and Ladle sees hope in the way that the items have been hammered into something beautiful – an allegory for life, perhaps.
Visitors to the Cynfas platform can take a virtual tour of [un]Seen [un]Heard installation at National Museum Cardiff. Umulkhayr Mohamed, also editor of Cynfas, curated the display which went on display in March, days before the lockdown. It is an intervention on sculptures displayed at the Museum, bringing the busts of Black figures and women to the forefront.
Umulkhayr Mohamed, one of the Amgueddfa Cymru Producers, a network for young creatives, heritage enthusiasts and activists, says:
"Cynfas will reach out beyond the traditional arts audiences by starting conversations that relate to National collections artworks with the contributors' not only sharing their responses to the artworks themselves but also to the many nuanced themes that they connect to these works.
"This edition's theme expands the conversation around Black Lives and how they matter, to include how art can be an exploration and articulation of this, and has been produced by a group of writers who were generous enough to bring their lived experiences to their contributions, but also to go beyond that and deeply connect to the artworks they spoke about in a way we are all able to."
Dr Kath Davies, Director of Collections and Research, Amgueddfa Cymru says:
"This is a great opportunity to work alongside the Arts Council of Wales and the Welsh Government to support the wellbeing of communities across Wales.
"Amgueddfa Cymru's art collection belongs to everyone in Wales. This project will engage a range of voices in a Wales-wide conversation about the national collection and will strengthen a sense of shared ownership and reach out to new communities during these difficult times. The coronavirus pandemic has changed how we interact with the world beyond, and our hope is that people of all ages will be inspired in this new, digital way of looking at our collections."
Sian Tomos, Director Arts Development for Arts Council of Wales says:
"Arts and health has long been a priority for the Arts Council of Wales, and this past 6 months of Covid-19 restrictions has highlighted as never before the importance of the arts to health and wellbeing. This latest Celf ar y Cyd initiative will be another contribution to this important part of our national life here in Wales."
The second edition of Cynfas will be released in November and will focus on Arts in Health. Upcoming themes include the Visual culture of Wales, Art and the Environment, and Money, Power and Art. Anyone wanting to contribute to these editions is encouraged to keep an eye on the museum's website and social media channels for regular opportunities to submit proposals.
Deputy Minister for Culture, Sport and Tourism, Lord Elis-Thomas, says:
"Cynfas is a very exciting project, which is also a celebration of what we can achieve during these difficult times to enable and share what the arts and culture in Wales has to offer. I'm delighted that this first edition will help to share the experience and heritage of our multicultural societies, and celebrate the contributions made in Wales by Black communities."
For more information, please visit www.museum.wales
ENDS