Press Releases
Celebrate Refugee Week at the National Waterfront Museum
Date:
2012-06-07
On Saturday 16 June from 12pm to 4pm the National Waterfront Museum - along with Swansea's City of Sanctuary and other local community groups - will host a day dedicated to celebrating the contributions made by refugees and those seeking asylum to Wales.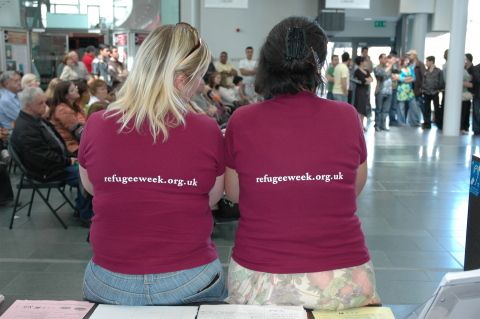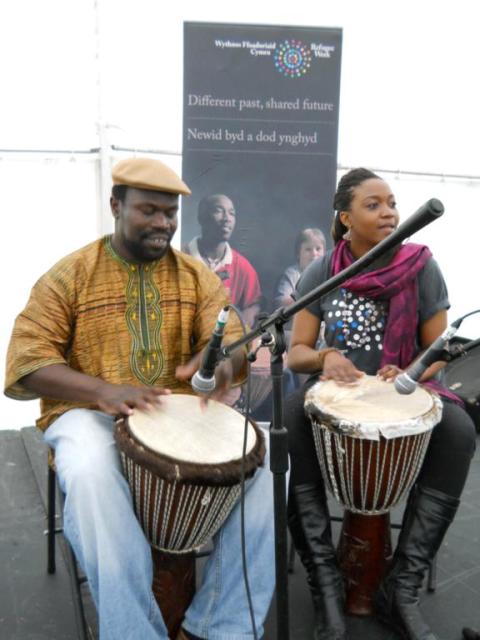 Activities will include:
A Global SportsVillage

Arts and crafts

Contemporary dance and live musical performances

International sports demonstrations

The Container Project, a 30ft x 9ft installation that tells the story of refugee and asylum seekers living in Swansea.
Linking in with this year's big sporting events, the day will showcase some international games including Welsh quoits, Afghanistan cricket, Iranian touch ball, Zumba, football and rugby. Other activities include table tennis, pool as well as more traditional pastimes such as the egg and spoon and three-legged race.
With three marquees located outside on the Museum's green, the day promises to be full of creativity and culture with a mix of dance performances, poetry recitals, music and will feature awareness stalls from participating organisations.
Sue James, Learning Officer at the National Waterfront Museum, who is involved in the preparations said: "We're delighted to be hosting this event, it's a chance to really highlight the important contribution refugees and asylum seekers make to Wales and for visitors to find out more about the different communities that live in Swansea. As the theme follows this year's sporting events, we're delighted to give visitors the chance to discover a new sport activity or game - they will even have the chance to have a go!"
In addition, those visiting can explore the Container Project, a 30ft x 9ft installation located in the Museum's Courtyard Garden. The project, which will be on display until Sunday 24 June, tells the story of refugee and asylum seekers living in Swansea. It explores their personal experiences and how their lives have changed since being dispersed into a city environment. It will also feature a selection of photos, artwork and poetry. Speaking about the project, coordinator Dave Evans said: "This is a unique opportunity to hear directly from refugees and asylum seekers about the reality of their life in the UK and to dispel some of the myths and stereotypes that have grown up around the issue of migration."
Over in Swansea Museum, visitors can explore a new exhibition by the City of Sanctuary, Swansea Bay Asylum Seekers' Support Group, Asylum Voices and Displaced People in Action, which aims to highlight the harsh realities of being an asylum seeker or refugee. On display until the end of August, the exhibition uncovers their journeys - often fraught with difficulty and distress - the asylum process and how people rebuild their lives in Swansea.
Speaking about refugees and asylum seekers, Emily Robertson, a Project Manager within City of Sanctuary,said: "Although only 1% of the world's refugees come to the UK (most stay in their own or neighbouring country) those who do come make enormous positive contributions to cities and towns. In Swansea we can see this in numerous ways from the volunteers at local family centres and charities, to the variety of food we eat and the consultants we meet in our hospitals. By coming along to the event on Saturday 16 June visitors can see, first-hand, the reasons we have to celebrate refugee contributions to our wonderful city."
Other organizations involved in the event include:
Welsh Rugby Union and Ospreys
Show Racism the Red Card
Swansea Table Tennis Centre
Welsh Quoiting Association
Red Cross
Oxfam
YMCA
Ethnic Youth Support Team
African Community Centre
Welsh Refugee Council
Project Peace
Swansea Community Farm
South Wales Police, Hate Crime Unit
Displaced People in Action
SBASSG Women's Group
Swansea City of Sanctuary
Did you know?
Refugees have always contributed to UK society and have had significant impact on UK sports.
In 2009, Anne Keothavong was the first British female tennis player for 16 years to break into the world's top 50. Her parents fled from Laos during the Vietnam War.
Mario Stanic, former footballer with Chelsea, played for Sarajevo FC prior to the Bosnian war.
Christopher Wreh, a Liberian refugee, won the English Premier League and FA Cup double with Arsenal.
ENDS
Members of the press and media are welcome to attend the event on Saturday 16 June, please contact Marie Szymonski on (029) 2057 3616 for more information.
City of Sanctuary is a national movement of local people, community groups, businesses and institutions united in a common wish to turn their city into a welcoming place for people seeking sanctuary from war or persecution. For more details about Swansea City of Sanctuary, visit http://www.cityofsanctuary.org/swansea
Admission to Amgueddfa Cymru museums is free thanks to the support of the Welsh Assembly Government.
Amgueddfa Cymru operates seven national museums across Wales:
National Museum Cardiff
St Fagans: National History Museum
the National Roman Legion Museum, Caerleon
Big Pit: National Coal Museum
the National Wool Museum, Dre-fach Felindre
the National Slate Museum, Llanberis
the National Waterfront Museum, Swansea