Press Releases
It's official - Waterfront hits the 2,000,000 mark
Date:
2013-09-04
Last weekend (Sat 31 Aug & Sun 1 Sept 2013) the National Waterfront Museum in Swansea welcomed its two-millionth visit, just eight years after opening its doors in October 2005.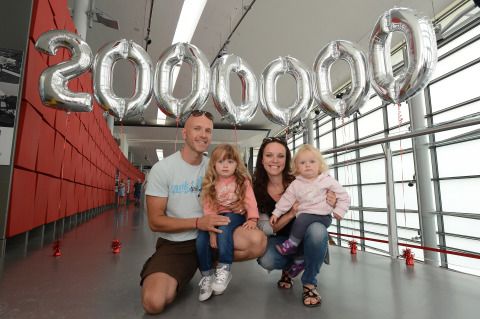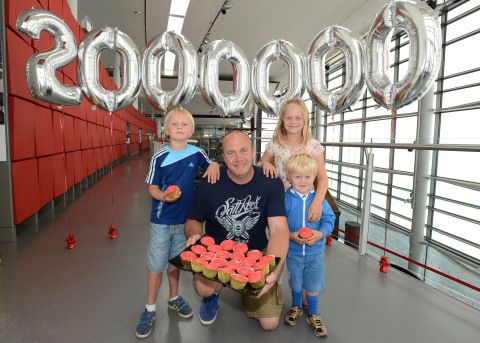 Welcoming on average 250,000 visitors each year from across Swansea, Wales, Britain and beyond, the Museum is most certainly continuing to make its mark on Wales's cultural map.
A visit to this iconic building gives visitors the chance to explore exciting human stories about innovation and industry in Wales, now and over the past 300 years.
The Museum displays 100 audio visual exhibits including 36 state of the art interactive displays and some very large historic objects from across the country including a replica of the world's first steam locomotive, a brick press and one of the very few surviving coal wagons.
To mark the occasion, the Museum surprised its weekend visitors with some free brightly red decorated cupcakes as a token of celebration.
Speaking about the news, Head of Museum Steph Mastoris said: "Welcoming the arrival of the two-millionth mark is a real honour for us all at the National Waterfront Museum.
"As well as presenting visitors with a fascinating free day out, the Museum plays a key role as one of Swansea's major attractions thus adding to the city's cultural offering and playing an important part in its regeneration.
"We're delighted to be providing the quality of exhibitions and events, as well as top levels of customer service that keep visitors coming back time and time again.
"This achievement is a fitting way to mark the end of a great summer - it's now all systems go to continue this success in the years to come."
Cllr Nick Bradley, Swansea Council's Cabinet Member for Regeneration, said: "Welcoming two million visits in eight years is a major achievement.
"It's testament not only to the quality of the National Waterfront Museum, but also to the hard work of staff there to raise its profile and keep on attracting visitors of all ages.
"The National Waterfront Museum complements our facilities to help re-enforce Swansea's status as a leading city of culture.
"Together with attractions like Swansea Museum and the Dylan Thomas exhibition, it makes a significant contribution to the city's cultural offer."
ENDS
Notes to editors: Fact file
The National Waterfront Museum officially opened its doors on Wednesday 17 October 2005 and has attracted crowds of visitors with its fascinating collections, fun interactives and fabulous public events and temporary exhibition programmes ever since.
The Museum is a partnership between Amgueddfa Cymru - National Museum Wales and The City & County of Swansea.
The £33.5m development was awarded an £11 million grant from the Heritage Lottery Fund.
It was designed by Wilkinson Eyre Architects incorporating a Grade II listed warehouse (formerly the Swansea Industrial and Maritime Museum) linked to a spectacular brand new glass and slate building.
The Museum is situated in Swansea's Maritime Quarter and forms part of the regeneration of the area.
The remainder of the funding came from the Welsh Assembly Government EU Objective One funding and other private donors and sponsors.
ENDS
Notes to editors
For further information, please contact Marie Szymonski, Marketing Communications Officer on (029) 2057 3616.
Admission to Amgueddfa Cymru - National Museum Wales sites is free thanks to the support of the Welsh Assembly Government.
Amgueddfa Cymru operates seven national museums across Wales.
National Museum Cardiff
St Fagans: National History Museum
The National Roman Legion Museum, Caerleon
Big Pit: National Coal Museum, Blaenafon
The National Wool Museum, Dre-fach Felindre
The National Slate Museum, Llanberis
The National Waterfront Museum, Swansea