Press Releases
Dylan Words feature at the National Waterfront Museum
Date:
2014-07-15
To celebrate the centenary anniversary of the birth of Swansea's most famous poet, Dylan Thomas, the National Waterfront Museum will feature a number of short quotations, selected by poet and Dylan-scholar Peter Thabit Jones.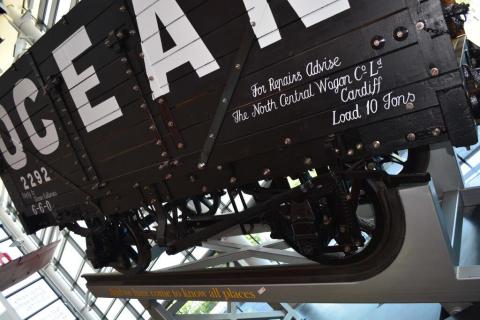 From 12 July to March 2015, visitors can explore the Museum's 15 themed galleries to discover the famous quotes in a one-off Literary Trail. Each quote has been carefully chosen to reflect the theme of the display and examples include:
Landscape: The secret of the soil grows through the eye
Extract from Light Breaks where no Sun Shines
Sea: Sailed and set dazzling by the handshaped ocean
Extract from I Make this in a Warring Absence
Money: And all the bells of the tills of the town shall ring
Extract from Under Milk Wood
"We are delighted to be working with Peter Thabit-Jones on this exhibition," said Head of Museum, Steph Mastoris.
"Not only does the trail cleverly welcome snippets of Dylan's words into the Museum, but it also marks the official start to our celebrations to mark this centenary year.
"We do hope lots of our visitors will pop in to uncover more about Swansea's famous poet," he added.
Speaking about the trail, Peter Thabit Jones said: "I am delighted to have had the opportunity to piece together a trail of quotations from the works of Dylan Thomas that would connect with the 15 themes of the Museum's galleries.
"I have taught Dylan Thomas on one of my courses at Swansea University for 21 years, so I am very familiar with the poems, stories, prose-pieces, as well as Under Milk Wood.
Peter's inspiration for the trail came from the Museum's guide book which he took with him to California last year as a writer-in-residence. Peter spent lots of time reading and re-reading his Dylan Thomas books, looking for suitable quotations to coincide with the galleries.
"It was such fun," said Peter. "I was so surprised that despite teaching Dylan for 21 years, how many of his individual lines can go beyond the poems and create ripples of thoughts.
"I do hope the public visiting the trail will have as much fun and appreciate his remarkable writing and also appreciate the wonderful and valuable Museum we have in Swansea," he added.
About Peter Thabit Jones
Peter Thabit Jones was born in Swansea in 1951 and is the author of 13 books. His work has been translated into over 20 languages. He toured America with Aeronwy Thomas, daughter of Dylan, in March 2008, giving readings and talks; and he and Aeronwy are the authors of the Dylan Thomas Walking Tour of Greenwich Village, New York, just published as a book and smartphone app as part of the DT100 celebrations, and available as a guided tour via New York Fun Tours. He has taught Literature and Creative Writing at the Department of Adult Continuing Education, Swansea University, for 21 years.
Other exhibitions associated with Dylan Thomas at the National Waterfront Museum include:
Sat 12 July-Sun 2 Nov
Harmony: The Dylan Thomas International Glass Award - architectural and stained glass artists from across the worlds have created new works inspired by the word Harmony.
Sat 11 Oct-1 Feb 2015
Dylan Thomas by Alfed Janes - a special chance to see a portrait of Dylan Thomas painted by his friend Alfred Janes.
Sat 11 Oct-30 Nov
Placing Dylan - in 1934, Dylan Thomas left 5 Cwmdokin Drive to live in London. 60 years later, London-born Ceri Thomas lived in the poet's Swansea home and begun producing artworks inspired by Dylan's place, writing and name.