Rate of growth in dates / publications
[This analysis is intended to demonstrate the potential of the database's 'bibliographic reference' field, it should not be read as a definitive interpretation of the information held in the database.]
During the course of data collection for this project there was a general feeling that the number of new radiocarbon dates which were being reported each year, and the number of publications exploiting them was increasing exponentially.
The chart listed below shows this impression to have been wrong.
Rate of publication of dates within the study area (dates, n = 4657; publications, n = 1249)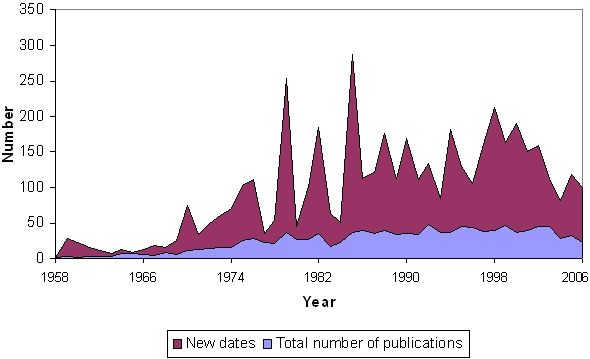 The earliest radiocarbon determinations relevant to the study area were produced by the Cambridge University dating laboratory as part of Sir Harry Godwin's study of the Somerset Levels and were published in a paper on global sea levels (Godwin et al 1958). These dates came just nine years after Willard Libby's first announcement of his new technique (see Libby et al 1949). The following year, the first Cambridge University date list was published in the fledgling journal Radiocarbon, including a further twenty dates relating to the Somerset Levels and a raised bog in Liverpool (Godwin and Willis 1959).
Initially it seems that publication of these radiocarbon dates was largely confined to Radiocarbon date lists, with few other authors incorporating the results of this revolutionary technique within their own publications. For early exceptions, see the work of Coope (1961) on the interstadial terrace gravels at Upton Warren, Houlder (1961) and the dating of a Neolithic axe factory at Mynydd Rhiw, and Griffiths (1962) in dating the cairn circles at Penmaenmawr. It was only in the 1970s that the number of publications referencing radiocarbon dates begins to rise significantly.
Other radiocarbon laboratories were quick to make their own contribution to the dating of the study area and, to date, over forty have done so. The most prolific have been Cardiff University's laboratory (839 dates, laboratory now closed), Oxford University (713 dates), and Harwell (669 dates, laboratory now closed). The most prolific commercial laboratory has been Beta Analytical (429 dates).
Returning to the chart, it can be seen that the number of new dates each year has seen major spikes in 1979, when Glasgow University published a study on submerged forest chronologies (Campbell and Baxter 1979a and 1979b), 1982, when two substantial projects on sea level change were published (Heyworth and Kidson 1982; Tooley 1982), and 1985 when Cardiff University published its first, substantial date list (Dresser 1985). These peaks appear exaggerated because of the absence of relevant date lists in 1980, 1983, and the few relevant entries in date lists for 1977, 1978, and 1984. Leaving aside these anomalies, the chart shows that the number of new dates being published each year had reached '2006 levels' by the mid-1970s. Since this time, there have been around 100 – 150 dates published annually. If anything the chart is showing a fall off since the end of the last century, although this could be a temporary fluctuation in the generally level trend.
Surprisingly, the number of publications which incorporate relevant radiocarbon dates also peaked quite early (around 1976) and has been remarkably level ever since at between 30 and 40 publications a year – despite the addition to the dataset of over 100 new dates each year and the existence of over 5,000 dates covering a very wide range of archaeological and palaeoenvironmental contexts.
It is possible that this unexpected plateau is a consequence of the wide-dispersal of radiocarbon dates across different publications, making it difficult for researchers to pull together all of the relevant dates for study. If this is the case, it is hoped that this project will go some way to resolving this problem.
Bibliography
Campbell, J. A. and Baxter, M. S. (1979) 'Radiocarbon measurements on submerged forest floating chronologies'. Nature 278, 409-13.
Campbell, J. A. and Baxter, M. S. (1979) 'Glasgow University radiocarbon measurements IX'. Radiocarbon 21:2, 171-9.
Coope, G. R. (1961) 'A late-Pleistocene fauna and flora from Upton Warren, Worcestershire'. Philosophical Transactions of the Royal Society of London, Series B, Biological Sciences No. 714 Vol. 244.
Dresser, P. Q. (1985) 'University College Cardiff radiocarbon dates I'. Radiocarbon 27:2B, 338-85.
Godwin, H., Suggate, R. P. and Willis, E. H. (1958) 'Radiocarbon dating of the eustatic rise in ocean-level'. Nature 181, 1518-9.
Godwin, H. and Willis, E. H. (1959) 'Cambridge University natural radiocarbon measurements I'. Radiocarbon 1, 63-75.
Griffiths, W. E. (1962) 'Radicarbon dates for the Bronze Age in north Wales'. Proceedings of the Prehistoric Society 28, 387.
Heyworth, A. and Kidson, C. (1982) 'Sea-level change in southwest England and Wales'. Proceedings of the Geological Association 93:1, 91-111.
Houlder, C. H. (1961) 'The excavation of a Neolithic stone implement factory on Mynydd Rhiw in Caernarvonshire'. Proceedings of the Prehistoric Society 27, 108-43.
Libby, W. F., Anderson, E. C. and Arnold, J. R. (1949) 'Age Determination by Radiocarbon Content: World-Wide Assay of Natural Radiocarbon'. Science 109, 227-8.
Tooley, M. J. (1982) 'Sea-level changes in northern England'. Proceedings of the Geologist's Association 93, 43-51.