Staff: Adam Gwilt, with Mark Lodwick and Mary Davis [in collaboration with Dr Tim Young (GeoArch) and Wrexham County Borough Museum]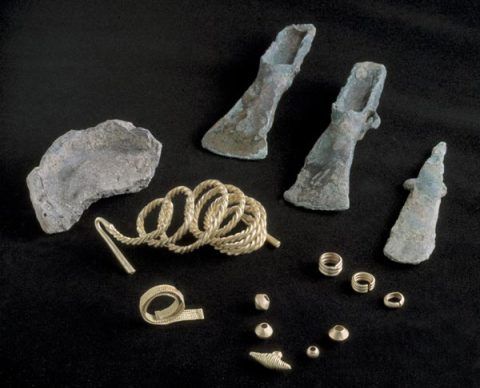 In 2004, a Middle Bronze Age hoard of gold jewellery, bronze tools and a hand-made ceramic pot were discovered by three metal-detectorists and reported as possible treasure. Archaeological investigation of the find-spot soon after established an accurate provenance, while excavation of a small trench confirmed that the hoard had been disturbed by recent ploughing activity. The gold-work, including a torc, twisted-wire bracelet, necklace pendant, beads and rings is an exceptional group, illustrating the techniques of twisting and soldering, which became fashionable throughout Atlantic Europe at this time. Their burial, in a pot and associated with two bronze palstaves and a chisel, makes them one of the most diverse and important associations of the Penard metalworking tradition in Britain. In 2005, following successful major grant applications the hoard was purchased as treasure for the national collections.
Research is now underway towards publication of the hoard. This will involve technological and metallurgical study, discussion of the international parallels and a situating of the hoard within its regional and broad archaeological context. A programme of geophysical survey will be undertaken in 2008-09, in an attempt to relate this apparently isolated burial to possible, though currently unknown, associated archaeology.