Welcome Back!
Tickets will be released on a weekly basis every Wednesday for visits covering the following two weeks on a Wednesday, Friday and Saturday. All visitors will need to pre-book a free ticket for their visit.
We are doing everything we can to keep you and our staff safe, so please consider others and don't try and visit if you are living in a lock down area, or have any symptoms of COVID-19.
Visitors are required to wear face coverings in indoor spaces at our Museums, in line with Welsh Government guidelines. We reserve the right to refuse entry to those not wearing a face covering without due cause for example, for health and wellbeing reasons.
What's On
Event

:

Digi Dig 1926 Roman Discovery Trail
National Roman Legion Museum
Finished
16 September 2019 – 16 September 2020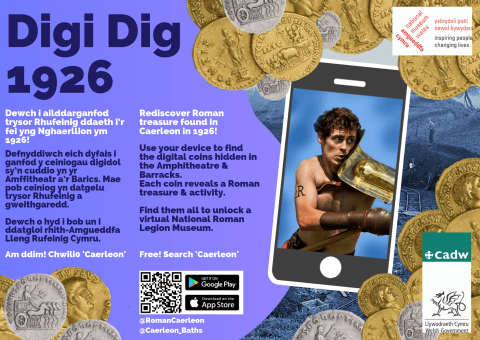 Rediscover Roman treasure found in Caerleon in 1926!
Use the app to explore the amphitheatre and barracks at Caerleon. Follow clues and meet historical characters to help you discover the Museum's treasures where they were once found. If you find them all you will unlock a virtual National Roman Legion Museum.
How to play:
use your device and the treasure map to find the six hidden clues in the amphitheatre and barracks.

when you are near the treasure a coin will appear on your device. Each coin reveals a treasure and activity.

find them all to unlock a virtual National Roman Legion Museum!
This app is a partnership between Amgueddfa Cymru and Cadw. It links museum treasures to the places where they were once found at the historic sites maintained by Cadw in Caerleon.
https://apps.apple.com/gb/app/national-roman-legion-museum/id1230121099
Download for Android https://play.google.com/store/apps/details?id=com.locly94cb7f5f79c34169988e5d193303d164
FAQ
The app requires Android 4.3 or

iOS 9.1 or later.

Please note the app is not compatible with some budget smartphones.

You will need a data connection during the experience.

If you are having a problem downloading the app make sure you have a good internet connection and that you have enough storage space on your phone.
What's On