Welcome Back!
Tickets will be released on a weekly basis every Wednesday for visits covering the following two weeks on a Wednesday, Friday and Saturday. All visitors will need to pre-book a free ticket for their visit.
We are doing everything we can to keep you and our staff safe, so please consider others and don't try and visit if you are living in a lock down area, or have any symptoms of COVID-19.
Visitors are required to wear face coverings in indoor spaces at our Museums, in line with Welsh Government guidelines. We reserve the right to refuse entry to those not wearing a face covering without due cause for example, for health and wellbeing reasons.
What's On
Event

:

Antefixa Clay Tile Making
National Roman Legion Museum
Finished
31 October & 2 November 2019,

11am-1pm
Cost
Charge will apply. Pre-booking optional.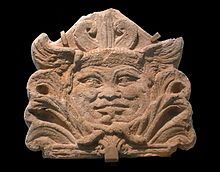 Did you know that Antefixas, a Roman tile with a scary face, were put on the edge of roofs to scare away evils spirits and offer protection to houses?
Come along and make your own Antefixa to scare away the spooks, ghosts and goblins!
What's On