What's On
Event

:

Death or Glory
24

&

25

August

2013

,

10am - 5pm
Cost
£3 per person, under 3's free
Death or Glory - The Gladiators return!
On Saturday 24th and Sunday 25th August, the National Roman Legion Museum is proud to present to you, 'Death or Glory'.
The Museum garden is the setting for the spectacular clash between two gladiator teams, the Reds and the Blues, fighting to the death for glory in the arena. Who will you support?
This will be a fun filled day out, with plenty to see and do to keep all ages entertained. Visit the gladiator camp before the fight to decide who you will support in the fight, then cheer on your favourite gladiator as they battle it out!
In between the fights we'll have more entertainment on stage with Roman style acrobatics and dancing. Or, why not get involved yourself and have a go at being a gladiator?
Make a balloon shaker to support your team, or have a temporary tattoo, watch crafts such as metal and bone working, talk to our doctor and see some Roman cooking, listen to tales of gladiators in the Amphitheatre… and all for £3 a person!

Meet the Gladiators.
Visit the gladiator camps before the Fight to decide who you will support; will it be the Reds or the Blues? Both have some fantastic fighters in their ranks to tempt you.
What about Amazonia, the grumpy gladiatrix, or Lupus, a fearsome fighter who is paired with Attis; a wild and energetic gladiator who's easily distracted by shiny things! Or you could choose to support Magnus on the Red team, a lightly armoured gladiator, paired with Titan, who is, quite frankly, a bit of a nutter!
Choose your champions and cheer!
Hail, Caesar, we who are about to die salute you.
The event is open from 10am – 5pm on Saturday 24th and Sunday 25th August. The main fights are at 12pm and 3pm each day. Entry is £3 per person, under 3's are free. Make a day of it by visiting Cadw's Fortress Baths and Amphitheatre as well as the Museum.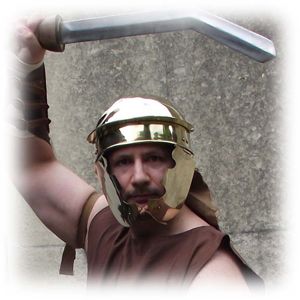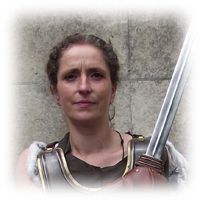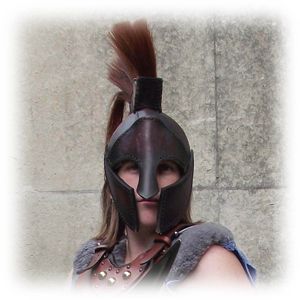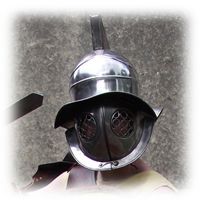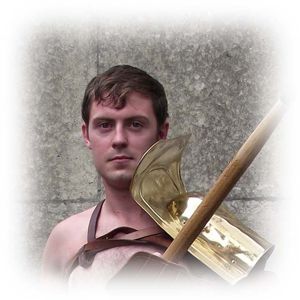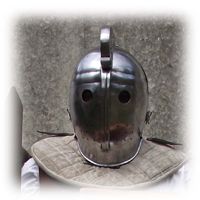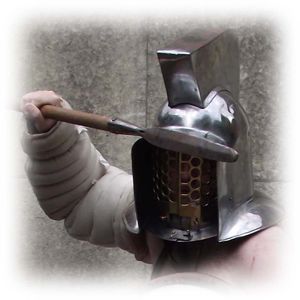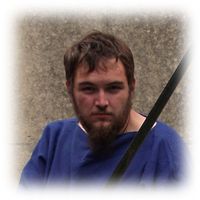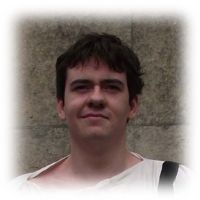 Gladiator Biographies
Name: Cassius
Type: Dimachaerus
Place of Birth: Britannia
History: Sold to a gladiator school as punishment for violent petty crime.
Personality: Completely loopy.
Name: Hecate
Type: Gladiatrix
Place of Birth: Dacia
History: Captured in Dacian wars and sold to a gladiator school.
Personality: Quiet but shouldn't be pushed too far.
Name: Amazonia
Type: Gladiatrix
Place of Birth: Sarmatia
History: Former warrior; captured and sold into slavery then sold to a gladiator school for attacking her master.
Personality: Known for her strength and temper.
Name: Attis
Type: Thracian
Place of Birth: Judea
History: Captured after leading an uprising with the People's Front of Judea against the Romans.
Personality: Wild and energetic but loses concentration when you show him something shiny.
Name: Magnus
Type: Retiarius
Place of Birth: City of Athens
History: Born into slavery in a gladiator school.
Personality: Quick and agile, he's completely at home in the arena. Drives everyone nuts singing all the time.
Name: Titan
Type: Murmillo
Place of Birth: Germania
History: A freed slave who has joined the gladiator school to earn money to pay off gambling debts.
Personality: Disiplined and solid with a mean streak.
Name: Lupus
Type: Hoplomachus
Place of Birth: Hispania
History: Sold to a gladiator school after being caught stealing spicy snacks form a local tavern.
Personality: Aggressive, but lacks stamina.
Name: Gannicus
Type: Gallic
Place of Birth: Gaul
History: A slave who worked in the stone quarries, his huge size and violent nature drew the attention of a leading gladiator trainer.
Personality: Arrogant and aggressive, he likes to intimidate people.
Name: Sumer Rudis
The Sumer Rudis is the referee for the fights between the gladiators. He has authority over the gladiator fights, but is not always treated with respect by the fighters.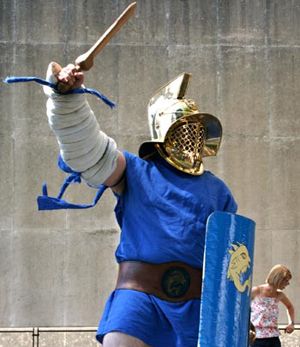 What's On