What's On
Talk

:

The Caerleon Annual Birthday Lecture
Booking
Pre booking required: 02920 573550
Lorica Segmentata: The Roman Spitfire?
Inspired by recent discoveries at Caerleon, this lecture will – amongst other things – compare and contrast two iconic images forever associated with their respective cultures: Roman segmental body armour, and the Vickers Supermarine Spitfire.
Just as the curve of a wingtip or snarl of a Merlin can still quicken the pulse of any modern Briton, the sight of legionaries clad in their distinctive body armour seems to have proclaimed one thing to the Romans for three centuries: military virtue.
Official metropolitan monuments in the Eternal City were covered with depictions of this sophisticated form of articulated plate armour. Everywhere a Roman looked they saw (what we now call) lorica segmentata.
Now, archaeological finds from all over the Roman Empire are telling us about the manufacture, use and evolution of the ultimate cutting-edge-technology defence. Where did it come from, how was it made, and to which troops was it issued?
Find out what Miss Shilling's Orifice and Roman girth hoops share in common, the importance of cut'n'shut and Heraclitus, and why names matter so much. Never in the field of human conflict has so much scrap metal proved so useful to so many.
Dr Mike Bishop is a freelance writer, publisher, and archaeologist who specialises in the study of the Roman army. He has excavated within the Roman forts at Chester-le-Street, Newton-on-Trent, and Osmanthorpe, and in the civil settlements outside the forts at Brough-on-Noe, Inveresk, and Roecliffe.
He was co-author of the publication reports on the Roman fort and town at Corbridge and the fort at Housesteads (both English Heritage backlog projects) and has catalogued collections of material for English Heritage at Aldborough and at the Hadrian's Wall Museums of Corbridge, Chesters, and Housesteads.
Dr Bishop regularly leads groups on guided tours of Hadrian's Wall and its associated sites and will soon be doing the same along the German frontier. He is the editor of the Journal of Roman Military Equipment Studies and a contributor to the forthcoming Wiley-Blackwell Encyclopedia of the Roman Army, as well as co-author of a diachronic study of Roman arms and armour. He has been a member of the Society for the Promotion of Roman Studies for over thirty years, is a Fellow of the Society of Antiquaries of Scotland, and a Trustee of the Corbridge Excavation Fund.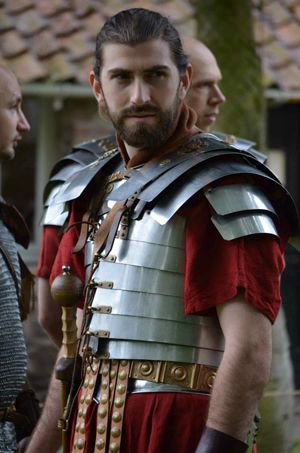 What's On