What's On
The Romans loved hunting hares (no rabbits in Roman Britain!). Become a hound by making a dog hat, then hunt the eggs around the Museum and garden before chasing our hare to claim your prize!
There are many images of hunting on objects in the Museum, from pictures on pots to the handle of a knife. Hunting animals was a sport but also a way of getting more food on the table.
Roman Britain was known for its hunting dogs. There are many tiles that have dog paw prints in from when they were left out in the sun to dry; judging by the size of some of them the dogs were about the size of a Great Dane!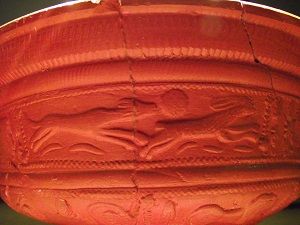 What's On