What's On
Event

:

Hands on Metal
12

&

13

July

2014

,

Saturday 11am – 4pm, Sunday 2-4pm
For the 'Festival of Archaeology' 2014 we'll be inviting a Roman blacksmith to demonstrate his art for you.
If you fancy something a little more creative that weekend you can join our workshop where we'll be making crafts with wire and embossing foil.
To the ancients metal work was nothing short of miraculous; to take a lump from the earth and heat it to produce molten metal which could be made into weapons and jewellery. The god Vulcan was god of fire and therefore blacksmiths, he is often shown as a blacksmith in statues.
Many of the tools of the blacksmiths trade haven't changed for thousands of years, at the simplest level all you need to create amazing works in metal is a fire, a hammer and an anvil. But to be able to create them takes strength and understanding of the metal as well as precision and patience.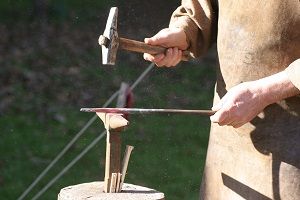 What's On