What's On
Event

:

Saturnalia – Christmas can be murder….
13

December

2014

,

11am - 4pm
Christmas can be murder…. Especially when there's a killer on the loose! Experience a different sort of Christmas party at the Museum as we show you what a Roman Christmas time, called Saturnalia, was like while you hunt for the murderer!
As well as a murder mystery to take part in throughout the day, there'll be activities such as candle decorating or making sun ornaments. We'll have Roman food to try and modern food to buy, games and quizzes to take part in. And to top it all off, there will be a traditional Saturnalia gladiator fight at 12pm and 3pm, and after the last fight the murderer will be unmasked.
Just what Christmas is all about – fun, food and fighting!
Small charge for some activities.
Even before Christ, and therefore Christmas, people have enjoyed a mid-winter festival. It's a reminder that the sun will return and crops will grow. The Romans celebrated Saturnalia. It was a festival to Saturn, one of the oldest Roman gods, who looked after crops. Originally it took place on the 17th December, but over time it came to be a week long.
As with modern celebrations, people had parties, exchanged gifts and ate and drank too much! The Romans also saw it as a festival of equality and everyone wore a 'freedman's cap' a small hat, a bit like a smurf's hat, that was usually only worn by slaves who had been given their freedom.
Slaves were allowed to be masters for the day and would be served by their masters. Presents could be gold covered apples, candles or sigillaria – small figures of people or animals.
Some traditions we have today come from the saturnalia celebrations. Paper hats are a reminder of the freedman's hats, the principal boy being a girl a leftover from the topsy-turvy master and slave relationship during Saturnalia.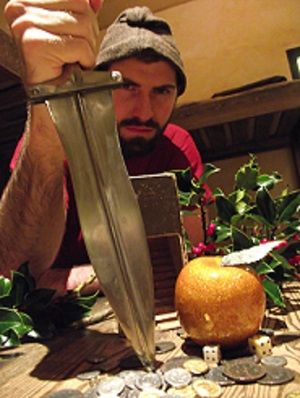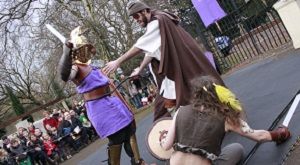 What's On