Sorry we are closed
Following the new Covid measures introduced by the Welsh Government, we are now closed until further notice. Keep an eye on our website and social media for news on when we will reopen.
What's On
Event

:

Mosaic Workshop
National Roman Legion Museum
Finished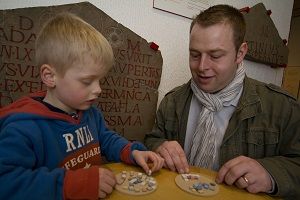 Shake off the winter blues by creating your own piece of art to take away.
Make a coaster or pot stand, or just a picture in tile.
Mosaics are made from small pieces, which can be made of stone, glass or broken pottery. The Romans used them in wealthy houses to decorate the floor, a kind of posh laminate!
It's thought that mosaic makers had pattern books and the pictures on them could be really elaborate or very simple, choose your own pattern and make your own decoration.
What's On