National Roman Legion Museum Closure
The Museum is currently closed to the public until autumn 2019 for essential roof maintenance.
Formal learning opportunities for schools will still be available during this time. Call: 029 2057 3546 to book.
What's On
Event

:

Written in the Stars
21

March

–

19

April

2015

,

10am-5pm
Follow our starry trail around the Museum for a prize.
The stars, or astrology, were very important in Roman times. Medicine and even battles could be influenced by the where the stars were in the heavens.
The Capricorn is the conception star sign of the Emperor Augustus, the Emperor who raised the Second Augustan Legion which has its home at Caerleon.
Many of the names of the planets come from Greek and Roman myth. For example, Saturn is the name of a god of agriculture who is celebrated at the Roman festival of Saturnalia, or Mars, Roman god of war.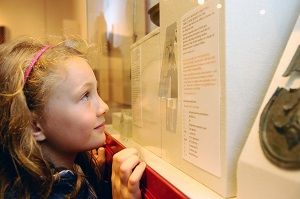 What's On