National Roman Legion Museum Closure
The Museum is currently closed to the public until autumn 2019 for essential roof maintenance.
Formal learning opportunities for schools will still be available during this time. Call: 029 2057 3546 to book.
What's On
Event

:

Half Term – Slings and Arrows
25

–

29

May

2015

,

11am – 3pm. Last entry 2.30pm
In this workshop to go alongside the 'Death at a Distance' Exhibition, make a working model of a catapult and have a go at archery in the garden.
Artillery, weapons that kill from a distance have been used by people for thousands of years. Think of the story of David and Goliath where David kills the giant with a slingshot?
A good example of how someone much smaller can kill using a powerful weapon.
The Romans refined these weapons into things like the Catapulta or Ballista; long range weapons that could throw large stones hard and fast to break down walls or create chaos on the battlefield.
They also had archers. All Roman soldiers had to know how to fire a bow but the best archers came from the Eastern Empire, places like Persia. They had small, powerful bows that could bring down death in a lethal rain of arrows on their enemies.
Don't worry, your archery will be under the supervision of our fully trained Romans.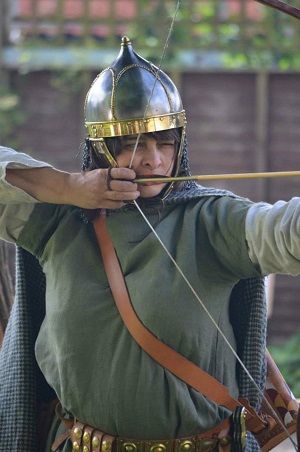 What's On