We are reopening!
We're delighted we can welcome you to the National Roman Legion Museum again from 20 May, even though your visit may be a little different from what you are used to. All visitors will need to pre-book a free ticket for your visit. We look forward to seeing you soon. Here's what you need to know.
What's On
Event

:

Romans V Celts
National Roman Legion Museum
Finished
22 & 23 August 2015,

10am-5pm
Cost
£3 per person, under 3's free.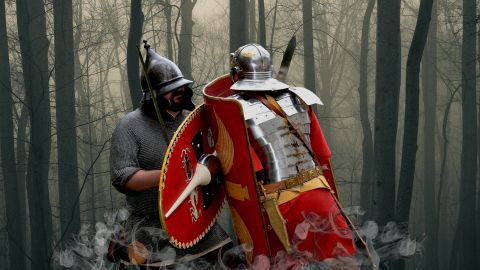 Sorry to say that we've had to cancel the event today. There will be no performances at all today. We do still have some soggy Celts in the garden, a soldier in the Barrack Room, a wandering Druid, a trader and a doctor to speak to! What more could you want on a rainy Sunday afternoon? All free today. Apologies for any inconvenience but the weather gods have been against us today. Boo.
Who will you support? The Romans or the Celts?
It will be your vote that decides the winner.
Based in the Museum garden, there will be two camps, one Roman, one Celtic. Both sides will tell you why they think they should win, but which will you choose?
Listen to the arguments, explore the camps and have a go at some of the crafts within them; then decide which side gets your vote – and watch the result played out before your eyes.
In the Roman camp you'll be able to visit the local doctor's tent and get yourself a fake wound to scare mum or dad, have a go at some Roman style marching and make a craft shield.
If you head over to the Celtic camp then you'll be able to be painted like a Celt or have a go at basket making or watch some metal decoration.
Whatever you choose to do, they'll be plenty to keep you occupied!
Camp open 10am – 5pm. Displays from the Celts at 11.30am and 1pm and from the Romans at 12pm and 1.30pm. Final skirmish at 3pm and voting taking place from 12.30pm – 2.30pm.
Does your foot shape decide who you would support in a battle? Are you Celtic or Roman or other? Take part in the 'Foot for thought' survey.
What's On