Staff Profile
Kim Thüsing
Senior Conservator Textiles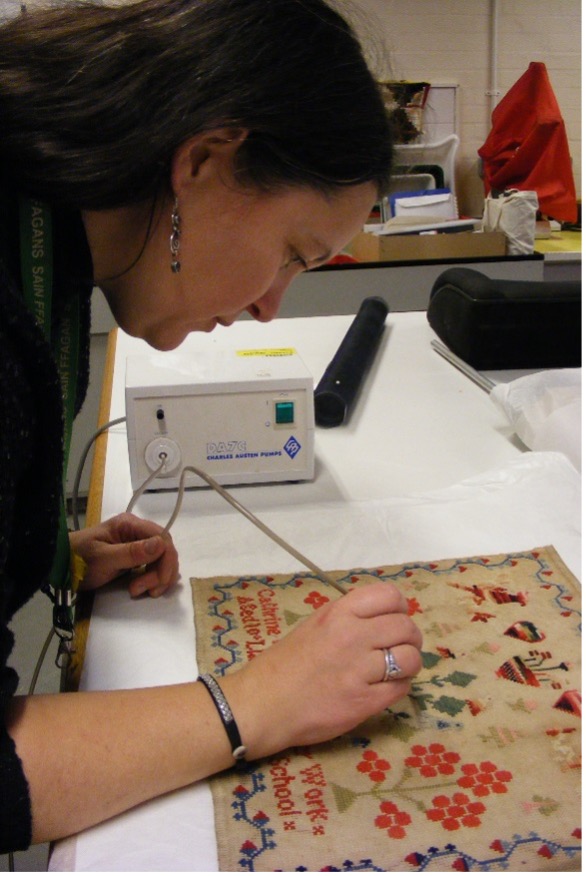 Contact Details
Kim Thüsing
Collections Services
St Fagans National Museum of History
Cardiff
CF5 6XB
Phone: +44 (0)29 2057 3449
Staff Name
Kim Thüsing
Job Title
Senior Conservator Textiles
Areas of Responsibility:
Textile Conservation, collections management, exhibition installation, preventive conservation.
Qualifications, memberships and relevant positions
MA (joint Hons) History of Art/English Literature (University of Edinburgh), 1997.
3-year post-graduate Diploma in Textile Conservation from the Textile Conservation Centre (in affiliation with Courtauld Institute of Art and University of London), 2000.
Member of ICON (formerly UKIC) since 1997
Treasurer of ICON textile section (2015 – present)
Research Interests
Investigation into the original appearance and history of a Court Mantua; The research aims to assemble more information and gain greater knowledge about one of the most important objects in the museum's textile collection. The mantua has still not been reliably dated; if that were possible, through comparative study of design, lace patterns, analysis of the composition of metals, study of archives, we will be a in a better position to know its original appearance and may even be able to establish it as one of the earliest embroidered mantuas.
Keywords
textiles, costume, embroidery, quilt making, collections management, preventive conservation, mount making.
Links
Selected Publications
'The use of coloring media for the localised coloration of support fabrics in order to camouflage areas of loss in textile conservation', In: Preprints to a conference organised by the Institute of Paper Conservation held at the Tate Gallery 5-6 June 2000: Toning Materials for Conservation.