What's On
Event

:

Sesiwn Dros Gymru: Traditional Welsh music workshops and afternoon performance
23

February

2013

,

Classes 10.30am - 1pm. Performance at 4pm
Booking
Please visit www.sesiwn.com
Three instrumental classes organised by Clera, the Society for Welsh Traditional Instruments and a singing workshop in association with the Welsh Folk Song society, culminating in a joint afternoon performance at the Oakdale Miners' Institute, followed by an informal folk session which is open to all.
One of the last in the Sesiwn dros Gymru series of workshops and sessions, supported by the Arts Council of Wales, this gives an opportunity to sing Welsh songs, and for players of acoustic instruments and singers of all abilities to learn, sing and play traditional Welsh tunes together.
The singing class sets out to teach several well-known Welsh folk songs to those who may be learning the language and also Welsh speakers who would like to build their confidence in singing the songs. The class will run in the Oakdale Miners' Institute during the morning and visitors are welcome to drop in and listen and join in some of the singing, or even join the class.
Registration 10.00; classes 10.30 - 1pm; performance 2.15pm.
Price - adults: £7.50, students: £5, family: £12
Further details in leaflets in the museum reception area or on the website: www.sesiwn.com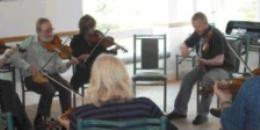 What's On