What's On
Talk

:

Easter Speaker Special: James Wong — Homegrown Revolution!
Join Kew-trained botanist, BBC science TV presenter & obsessive foodie grower James Wong for a fascinating talk about all things botanical.
Focussing on his new 'Homegrwon Revolution' campaign, James will be talking about his hope to free growers from the timewarp of 'dig for victory'-style veg & open up a whole new world of weird and wonderful flavours. There is so much more to 'growing your own' than spuds sprouts and swede! with a truly massive array of delicious, stunningly beautiful and super easy-to-grow crops just waiting to be given a chance.
You'll also have the chance to buy James's book – Homegrown Revolution from the Museum's shop and have it signed by James himself from 3.30pm onwards.
James is an ethnobotanist - in simple terms he is a scientist who studies how people use plants. From incredible edibles to medicinal marvels, how harnessing the power of plants could help overcome civilizations great threats and lessons to be learnt from the diet of stone age man, James sees plants as much more that greenery for your garden.
A unique blend of explorer, anthropologist, gardener, and adventurer, James trained to Masters level at the University of Kent and the Royal Botanic Gardens, Kew and his work has taken him to Ecuador, South China and Indonesia.
Brought up in Singapore & Malaysia, his research interests include traditional medical systems, underutilised crops species & wild plant conservation.
His TV work includes fronting award-winning BBC TV series "Grow Your Own Drugs", and becoming a regular face on hit BBC rural affairs series "Countryfile". He also co-designed a gold-medal-winning garden at the Chelsea Flower Show.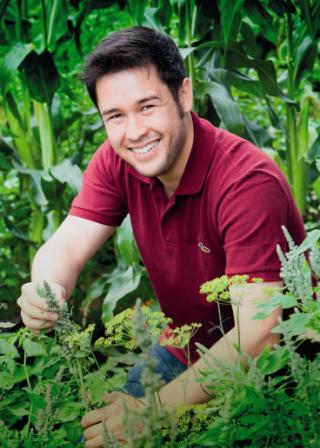 What's On