What's On
Exhibition

:

Private Collections - Women's International Glass Workshop
22

June

–

8

September

2013

,

10am - 5pm
Private Collections is an ensemble exhibition of small works from the Women's International Glass Workshop. Each of the sixteen participating artists contributed a set of intimate pieces of work.
By reordering the works, a series of sixteen similar, yet unique, collections are created. The exhibition was conceived by Icelandic member Sigríður Asgeirsdóttir, and was first exhibited for 12 months at the University of Iceland Háskólatorg in 2011.
"After an acclaimed show at the University of Iceland in Reykjavik, this beautiful show of glass panels brings the work of women who specialise in architectural glasswork from across the world to Swansea," said Andrew Deathe, Gallery Author.
The Women's International Glass Workshop is a group of contemporary glass artists. Every two or three years, the group meets to exhibit and experience a host country. Meetings have taken place in Iceland, Wales, Ireland, Austria, Japan, Canada, USA, New Zealand and Australia. In 2008, the Workshop celebrated its twentieth anniversary with a major touring exhibition, 'Gathering Light', in Liverpool, Chartres, and in Swansea, where it attracted 60,000 visitors to the National Waterfront Museum.
List of exhibiting artists
Sigríður Asgeirsdóttir – Iceland; Doreen Balabanoff – Canada; Chris Bird-Jones – Wales; Ginger Ferrell – USA; Marie Foucoult-Phipps – France; Amber Hiscott – Wales; Catrin Jones – Wales; Cornelia König – Austria; Linda Lichtman – USA; Mary Mackey – Ireland; Ellen Mandelbaum – USA; Christine Triebsch – Germany; Helga Reay-Young – Germany; Holly Sanford - New Zealand; Sachiko Yamamoto – Japan; Yoshi Yamauchi – Japan/Germany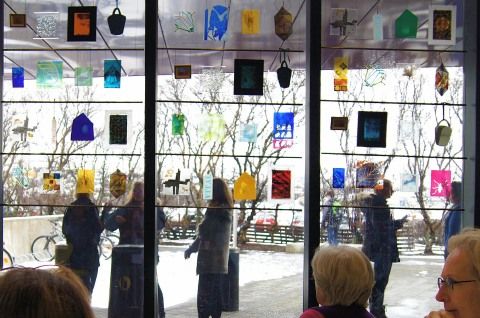 What's On