What's On
Event

:

International Women's Day
Celebrate International Women's Day with us with a feast of live music, spoken word, workshops, exhibitions, interviews and performance at the National Waterfront Museum.
Full programme
9am – 11am - Taster Nordic Walking Session. (Outside the National Waterfront Museum)
Meeting point National Waterfront Museum entrance (dockside)
40 minute walk around the South Dock.
Suitable for all.
This is an ideal introduction to Nordic Walking, where they use specially designed Nordic poles to assist in walking and it lessens any stress on joints for those who have musculoskeletal problems or mobility problems. It's great exercise for rehabilitation and can be enjoyed by every family member regardless of age. It's safe and enjoyable.
Usual sessions are held weekly at the Botanical Gardens, Singletons Park outside 360 Café, Swansea Bay. Further information about Nordic Walking sessions can be found at www.baynordicwalking.co.uk
Inside National Waterfront Museum, Swansea
11am- 3pm
Main Entrance
11am – 3pm - Ruler-skirt installation
An exhibition by Emma Renolds with ex-students of Pen Y Dre High School, Merthyr Tydfil and productivemargins.co.uk.
Atrium
11am – 3pm - Life Support Art Installation
A visual art exhibition by Forsythia Youth and productivemargins.co.uk
11am – 3pm – Golf Workshop, Golf Development Wales
12pm-12.30pm – Live Music with Della Lupa
1pm-1.30pm – Live Music with Sanctuary of Song
In front of the Museum
12.30pm-1pm - Taranau Taiko Drummers

Ocean Room - Talks
11am -11.15am – Dr Alys Einion, Associate Professor of Midwifery & Co-Chair, LGBT+ Staff Network
Presenting feminism as a topic to women: Writing a Woman's Life - How your Story Matters
11.20am-11.35am – Sarah McCreadie
Spoken Word: "Girls are Gods"
11.40am-11.50am - Christine Hall, Girls Friendly Society
12pm – 12.15pm - Humie Webbe, Equality & Diversity Champion, National Training Federation Wales.
Celebrating Success and Equality! - A timeline of work based learning achievement
12.20pm-12.35pm – Aisha Monic Namurach
Body Positivist (Body Positivity Activist) Aisha will be speaking about her experiences as a Finalist for Miss Voluptuous 2017, Miss Plus Size UK 2016 and Miss Cardiff Curve 2015 and how we can inspire each other.
12.40pm-12.55pm – Talk with Horizon Films, Hannah Grace, Violet Skies & Danielle Lewis
1pm – 1.15pm - Humie Webbe, Equality & Diversity Champion, National Training Federation Wales.
Celebrating Success and Equality! - A timeline of work based learning achievement
1.20pm-1.35pm - Vanessa Kisuule – Spoken Word Performance
1.40pm – 1.55pm - Rosa Robinson, Director, Work With Meaning
Versions of ourselves: Creativity and social change
Our lives contain unchangeable facts. How we interpret and articulate our experiences can diminish us or set us free.
A talk about creativity, personal resilience, and social change.
2pm-2.30pm – Panel Discussion 'Creating An Equal Future for women and girls in Wales.'
Chaired by Shehla Kahn, Ethnic Youth Support Team, Swansea (EYST)
With Dr Alys Einion/Rosa Robinson/ Andrea Williams
2.40pm-14.55pm – Sophie Mckeand Young Person's Laurate (Wales)
Poetry
Downstairs Workshops
11am – 3pm WHAT JAR'S YOU? Workshop
With Emma Renold
Fill and decorate jars with messages for change on how society is unfair or unequal when it comes to sex, gender and sexuality. Take a picture and share your views on @agenda.wales facebook page.
(Cardiff University, led by Gender and Sexualities Research Group)
11am – 3pm Smashing Sexism Workshop
With Emma Renold
Join Plasmawr students to make a machine out of lego blocks and characters that combats how gender stereotypes stop you doing stuff.

11am – 3pm – Robot Workshop
With Humie Webbe, Equality & Diversity Champion, National Training Federation Wales.
Dockside Room
11am – 12pm – short films
Run Wales
Ovarian Cancer
South Wales Fire and Rescue Service
MWNUK Muslim Women's Network
Women Connect First
Plan International UK
Life for African Mothers
1pm- 1.45pm & 2pm-2.45pm – Comedy
With Edinburgh Fringe Festival Stand Ups Amy Howerska and Jenny Collier
Cityside Room
11am-12.30pm – Herstory Workshop
Alice Wroe is bringing Herstory to Wales for the first time! In each workshop, participants are invited to take their seats at Herstory's recreation of Judy Chicago's canonical feminist artwork 'The Dinner Party'. With a particular focus on Welsh women's history, each guest is given all they need to become one of the 'Herstory Sheros' whether you are Augusta Hall, Gwen John or Amy Dillwyn, you will be in good company as the session will be spent journeying through herstory, celebrating women and achievements that have been systemically left out of history. Find out more @herstory_uk.
Advance booking is essential. Tickets through www.wenwales.co.uk
1.15pm – 2pm – Empowering young women from African Diaspora living in UK and Africa Workshop
With Rahma Abdilahi, Sub-Saharan Advisory Panel. The Tuwezeshe project that aims to empower young women from the African diaspora in Wales and in Africa.

Warehouse Gallery
11am-3pm The Healing Network Workshop
1pm-2pm
Bethan Elfyn's Pocket Guide to Music, Radio and Blogging
Hear from journalists and producers from BBC 6Music, Amazing Radio, BBC Introducing, and record labels and music blog. Armed with their favourite records, we'll hear about their work and their musical inspirations.
Contributors include:
Jayne Rowlands BBC Wales / Horizons
Julie Weir Music For Nations/ Sony Records
Anastasia Connor, Song By Toad, Edinburgh Label and Music Blog
Live Music from Adwaith
Stand Information
Action for Children, Abertawe Nordic, Cardiff University, Chwarae Teg, Disability Wales, Golf Development Wales, National Training Federation Wales, Women's Equality Network,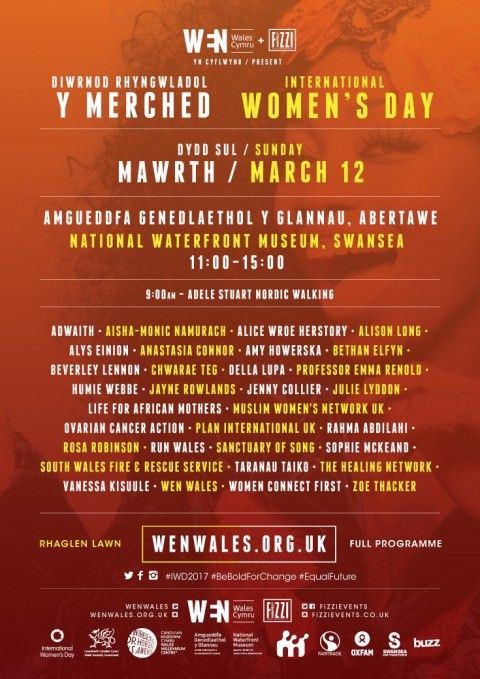 What's On