What's On
Event

:

Man Engine
National Waterfront Museum
Finished
12 April 2018,

11am-1.15pm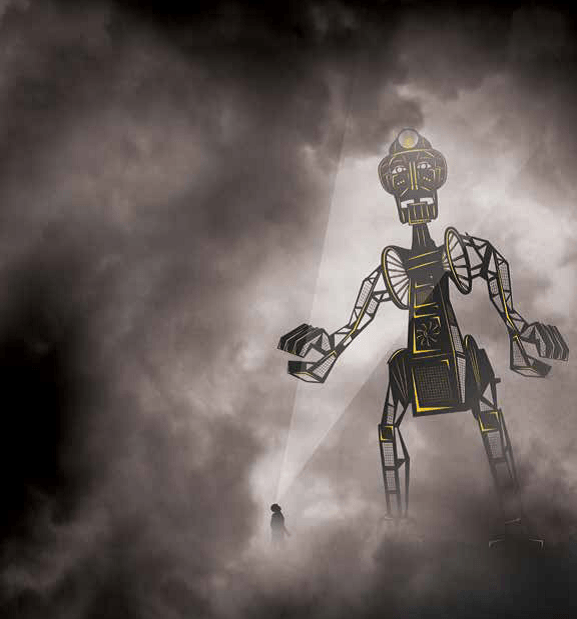 Join us to see the amazing spectacle that is Man Engine as he pays a visit to The National Waterfront Museum, part of his 2018 Forging A Nation tour.
South Wales is one of the UK's most significant mining heritage locations, with iron, copper and coal forming the heart of the Valleys for hundreds of years.
And in 2018, to celebrate and commemorate our industrial history, the now-iconic Man Engine will be paying us a visit!
The Man Engine will celebrate 300 years of copper smelting in Swansea, collecting copper ore from the docks and taking it through Swansea's city centre to be smelted at Hafod-Morfa Copperworks for an unforgettable after-dark fire and light show.
At the National Waterfront Museum, the Man Engine will collect copper ore from the National Waterfront Museum located beside Swansea's marina and historic South Dock, and meet one of Swansea's Cape Horners who transported copper ore from as far away as Cornwall, Chile and Australia. Come and join in the singing as we wake the man engine up and watch as he transforms to his full 11.2metres.
The National Waterfront Museum will have a super selection of things to do while the Man Engine is in town.
As the Man Engine receives his copper ore, visitors can learn more about copper with some Cracking Copper pop-up science, make some copper slime and have their face painted copper
The mechanical man will be reflected in activities including Lego robotics, making a robot window mural and letterpress printing a robot poster.
Our curators will open their cabinet of copper curiosities, with 3D printing on display, along with a screening of the Iron Giant film at 11am.
And don't forget to take our gallery trail featuring a special copper egg!
More details: www.themanengine.co.uk/cymru
PROGRAMME
National Waterfront Museum
Programme: 11am – 1.15pm
FREE
The story begins with The Man Engine collecting the copper ore from the docks in a series of impressive displays packed with nostalgia.
City Centre
Programme: 2.15pm – 3pm
FREE
The spectacle continues with The Man Engine carrying the copper ore through the city centre.
Hafod-Morfa Copperworks
Programme: 6.30pm – 9.30pm
Tickets from £2.50 www.ticketsource.co.uk/event/222093
The Man Engine arrives at the Copperworks to hand over the copper ore to John Henry Vivian for smelting in an impressive after dark fire and light show that you really don't want to miss.
What's On