Digital Events
What's On
Digital Event

:

Virtual Adult Learners Week 2020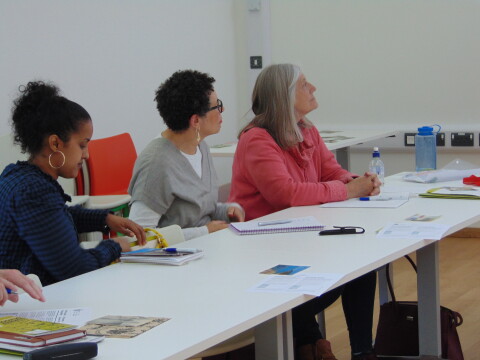 Virtual Adult Learners Week Programme
This year Adult Learners Week has gone digital!
Amgueddfa Cymru National Museum Wales have been working closely with the Learning and Work Institute to contribute towards the campaign over the summer and we have a full programme planned for the week itself:
21st to 27th September 2020.
Our main focus for the week will be on making, creating and wellbeing.
Programme:
Monday 21 September
Create your part in the National Wool Museum's Exhibition of Hope:
Creativity and a sense of community can support us through this time of isolation, so we're inviting you to join us in creating an exhibition for the National Wool Museum: The Exhibition of Hope.
We're hoping you'll contribute to the making of a giant rainbow blanket that will be stitched together by our volunteers and exhibited at the National Wool Museum when we reopen. Each contributor is asked to create an 8"or 20cm square, in any way you like, whether that be for example, knitted (in any stitch), crocheted or woven , in any colour. Download this pattern to get exact number of knitting stitches, needle size etc. Following the exhibition, smaller blankets will be created from the giant rainbow blanket and donated to various charities.
To help you to take part why not watch our short video demos on:
How to make a simple card loom and weave a square
How to felt a square
https://museum.wales/articles/2020-04-03/Create-your-part-in-the-National-Wool-Museums-Exhibition-of-Hope/
Tuesday 22 September
Inspired By…
An invitation to respond creatively on Instagram to @museumwales collections to celebrate the reopening of the national Museums across Wales.
We'll introduce an object from the national collection to inspire you to respond in your own way. You can choose any medium using materials you have in the house – a drawing, sculpture, costume, poem, story, embroidery, carving… it's up to you. Or, if you prefer, you could help us to re-interpret the object, sharing your views and insight with us as to what you think it is, what it signifies for you and the story it tells.
If you choose to make something in response, please take a photo of your finished creation and share on your Instagram profile remembering to tag @museumwales
We look forward to sharing your creations on our stories at the end of the week.
Have fun creating!
If you have already been inspired to create at home during lockdown, tell us about it by taking part in our Collecting Covid questionnaire
Instagram: @museumwales
https://museum.wales/collections/online/
#InspiredBy
Wednesday 23 September
Video Craft Tutorials for Wellbeing and Sustainability:
This series of short 10 to 15 minute craft tutorials, bought to you in partnership with Green Squirrel and the GRAFT project (NWMS), will follow the theme of sustainability:
How to Make Beeswax Wraps (GRAFT)
How to Make Seed Paper (Green Squirrel)
How to Make T-shirt yarn (Green Squirrel)
How to Make a Knitted Necklace (Green Squirrel)
https://www.greencityevents.co.uk/what-we-do/green-squirrel-workshops/
#WellbeingWednesday #create #greensquirrel #greenskills #ecocraft #community
Thursday 24 September
Live Virtual CraftAlong (4.30pm to 8pm):
Join us and our partner Green Squirrel for these virtual craft alongs live on zoom (one through the medium of Welsh 16.30 – 18.00), one through the medium of English (18.30 – 20.00). Bring your current crafting project or simply come along to enjoy the discussion and the opportunity to socialise. Hopefully you will leave feeling inspired to take up crafting.
The sessions will follow a central theme (to be announced nearer the time) and will include a brief talk on the theme and some related crafting demos.
This will be a friendly and informal zoom session and everyone is welcome! But prior booking through Green Squirrel is essential.
Bookings for this event will be launched in early September 2020, along with the session theme.
You can stay for the whole session or just pop in to say hi.
Instagram: @museumwales @bemoresquirrel
https://www.greencityevents.co.uk/what-we-do/green-squirrel-workshops/
#craftalong #create #craftivism #greensquirrel #greenskills #ecocraft #virtualchat #skillshare #community
Friday 25 September
Adult Learning at AC NMW:
To end Adult Learners' Week (21 – 27 September) we will be sharing our stories about adult learning across Amgueddfa Cymru National Museum Wales and information on how to get involved in the future.
Follow us across our social media channels to find out more about our offer, the work we do with our partners, discover our adult learning resources and hear some of our plans for the future.
Twitter: @AmgueddfaCymru @Amgueddfa_Learn
Instagram: @museumwales
Facebook: AmgueddaCymru
https://museum.wales/learning/
https://museum.wales/getinvolved/
What's On