What's On
Exhibition

:

The National Wool Museum's Exhibition of Hope
2 October 2021 – 15 January 2022
Booking
To visit the Exhibition, a general admission ticket to the National Wool Museum must be booked in advance. Accompanying the Exhibition will be an online digital exhibition page. You do not need to book tickets for the digital exhibition page.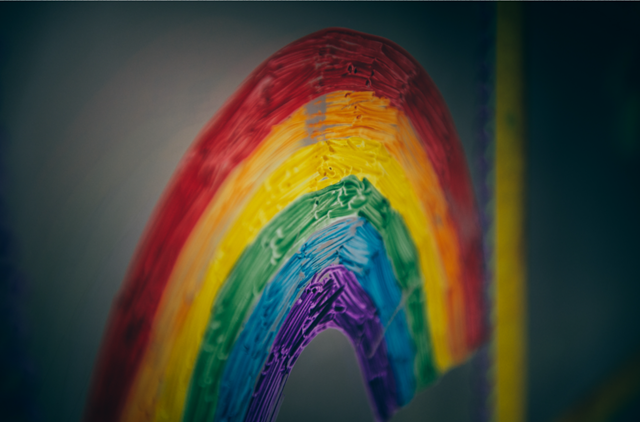 The Exhibition was launched at the beginning of the nation's Covid-19 lockdown in April 2020. Members of the public, Museum Wales Staff and Volunteers were invited to create rainbow coloured squares in any way participants would like whether that be, knitted, felted, woven or crocheted using any materials they had readily available. Contributions for the Exhibition closed in March 2021 and nearly 2000 squares were received.
The squares have been lovingly joined together into beautiful and unique rainbow blankets by National Wool Museum volunteers and Museum Wales staff and will be displayed creatively in the Museum's Longyard. The Exhibition will include a brief interpretation 'Stories of the Squares' video and a rainbow handprint artwork by local village school, Ysgol Penboyr.
The Exhibition aims to reflect spirit, hope and community during these challenging times. It is designed to be an immersive experience, a symbolic hug of kindness of the love that has been placed into every stitch and is created as a tangible embodiment of hope.
The Exhibition will be displayed at the National Waterfront Museum, Swansea between July 2022 and October 2022. Following this the blankets will be given to charities.
As part of the Exhibition, there will be an online page on the Museum Wales website. The page will include, amongst other things, the Exhibition of Hope 'Stories of the Squares' video and an Exhibition set up time-lapse video as well as a brief walk around of the Exhibition itself.
Amgueddfa Cymru wishes to thank all contributors and The Ashley Family Foundation and Community Foundation Wales for their support with this Exhibition.
What's On