What's On
Event

:

Sue Clow Workshop: Making a Woolly Sheep and Rug making Techniques
13

April

2013

,

11am - 4.30pm
Booking
Booking essential, please contact Sue Clow on 01974 282530 or email sue@ragartstudios.com
This workshop includes three unusual techniques for using woollen fleece needle felting, hooking and locker hooking.
All involve making fleece into finished items without spinning and work brilliantly with poor quality wool.
You can needle felt a small woolly sheep, learn the technique and take away a finished animal!
Learn the two hooking techniques which are perfect for using unspun fleece and which are fantastic for making anything from small badges to big, woolly rugs.
All tools and materials will be provided and will be on sale. All materials and equipment provided at no extra cost but try to bring your own scissors.
Maximum number, 15. Booking essential, please contact Sue on 01974 282530 or email sue@ragartstudios.com.
For further inspiration have a look at our websites www.ragartstudios.com; www.zalingai.co.uk; and www.kaotickittus.co.uk.
Also you can follow us on facebook by going to www.facebook.com/RagArtWorkshops.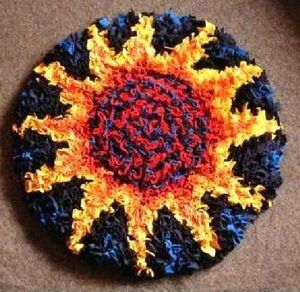 What's On