What's On
Event

:

Brandon Mably Workshop: Persian Poppy Design
Booking
Tel (029) 2057 3070
This is a unique opportunity to take part in a special workshop run by Brandon Mably, the well-known knitting designer and author.
Brandon works in partnership with the renowned textile designer Kaffe Fassett, and the workshop will coincide with an Exhibition of Kaffe Fassett's Knitwear at the National Wool Museum.
Both are well-known for creating colourful, dramatic patterned designs and the workshop will be an opportunity for participants to hone their use of colour and gain the confidence to use colour in their own designs in the future.
Booking is essential, with payment on booking.
Participants must bring knitting needles (whichever size is most comfortable for them, with a suggested range of US 6-8), scissors, at least 6 light or brightly coloured yarns and 6 dark or deeper coloured yarns in small quantities, notebook and pencil (optional), camera (optional).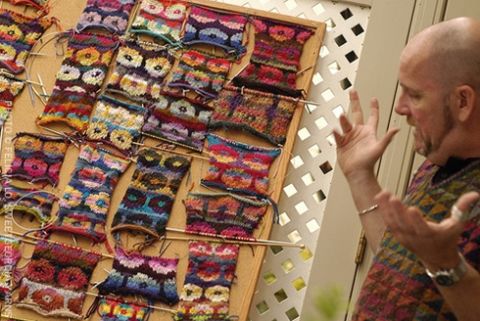 What's On