Conservation
Zoology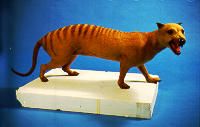 Looking after dead animals!
The NMGW has a large and diverse zoological collection. This comprises of specimens that occur throughout the animal kingdom, from tiny insects to the impressive skeleton of a Humpback whale! Looking after these collections is a challenging task for the museum conservator. Not only is the range of animals large and varied, but so are the methods used to preserve them. Often these methods depend on the type of animal and what use is required from the specimen. As a result, depending on what it is, a specimen can be slide mounted, fluid preserved, dried, frozen, embedded in resin, a study skin, a skeletal preparation, a taxidermy mount...
The zoological collections demonstrate the great diversity of the animals that make up our world. The collections form the basis of knowledge for display, education and research. Often the specimens represent extinct or highly endangered animals.
Photo 1 above shows a taxidermy mount of the famous Tasmanian Wolf, which was hunted to extinction by the 1930's. The NMGW specimen was in poor condition and extensive work was required to clean and repair the specimen for subsequent display. However, most of the 3 million plus zoological specimens will not be used for display. These form the research collections.
Photo 2 shows some bird study skins, which have been prepared with their wing and beak patterns on display making the specimens easier to use for visiting researchers, students and artists. In addition to the actual specimens the conservator needs to look after a whole range of models developed to help interpret the animals. Many of these models are now historic, dating from the 19th century.
Photo 3 shows a model of a silk moth made in the late 1800's which needs clean stable storage if it is to survive another 100 years.
As well as cleaning, conserving and repairing specimens, an important role of the conservator is collection monitoring. The aim of monitoring is the early detection of potential problems, allowing rapid and effective action to be carried out as needed, rather than when it is too late, and is commonly known as preventative conservation.
Two key problems face our collections; pest damage and environmental damage from temperature, pollution and water.
Photo 4 and 5 show the effects of insect pests on the collections which can, if left unchecked, completely destroy a whole range of specimens. Many of our collections also need regular maintenance to ensure that the conditions for preservation of the animal specimens are being maintained.
Photo 6 shows a digital density meter being used to ensure that the alcohol used in the preservation of our fluid collections is at the correct level.
The ultimate aim is to preserve our collections, not for now, but for the future. For this conservator is going to have to deal constantly with the gradual degradation processes of time. Added to this, the conservator now has a new area for consideration: the implication of any conservation action on the preservation of the DNA in a specimen. Museum specimens are being increasingly used for studies requiring information held in the DNA, a role which conservation at NMGW is helping to develop further.
Botany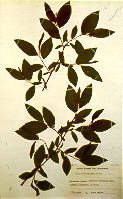 Conservation within the botany section of the department of Biodiversity and Systematic Biology (BioSyB) is a challenging responsibility. The collections include higher and lower plant specimens, wood sections, botanical wax models, archives, photographs, prints and drawings. The condition of the collections is the responsibility of the botanical conservator who endeavours to monitor, clean, re-mount, re-packet, re-house and repair to the best of their ability. The collections are conserved to a high standard, increasing longevity and accessibility. A broad knowledge of mixed collections is vital and the conservator has attended various training courses in Britain and abroad.
Main areas of expertise include re-mounting of herbarium specimens through humidification, floating out of mounted, aquatic specimens, condition surveying, freezing and freeze drying as a method of pest control, conservation of paper labels and data, wax model conservation and the identification of pesticide residues on natural history specimens. A basic knowledge of book binding, paper conservation and photographic conservation is also a prerequisite within this department.
The botany material is housed within the National Museum of Wales Herbarium. The vascular collections are kept flat on archival sheets and are mounted using straps and not glued. The lower plant material is stored in packets of cotton paper, in drawers within a roller racking system. The collections are frozen at temperatures of -20ºC for 72 hours on a rotational basis and all in-coming loan material is frozen immediately. As freezing is regular practice within NMGW it is important not to glue the collections to the sheets. Strapping allows some movement, which is imperative with organic material, which needs to respond to changes in relative humidity.
Role in BioSyB
Researching and presentation of projects to national and international conservation groups.
Conserving of herbaria and non-herbarium material.
Advising on conservation needs within the department regarding storage, environment, display and collections condition.
Microscopic wood identification
Minimal requirement of identification of insect pests, higher and lower specimens.
Answering of queries regarding all aspects of conservation within botany.