Andy Mackie: Head of Marine Biodiversity Section
Expertise and interests
Andy Mackie graduated from Heriot-Watt University in 1977 with an honours degree in Marine Biology. It was not until later in 1984 that he joined the staff of the NMGW Zoology department as a research assistant in marine biology. His expertise includes Polychaete taxonomy, systematics and phylogeny and Benthic Ecology. During his time here at NMGW, as well as research in those areas, he was involved in the planning of the Natural History in Wales Gallery, project leader for the Irish Sea survey a few years ago and first author of the resulting publication, BIOMOR 1. Alongside that he worked on compiling papers which together contributed to a postgraduate thesis. He was awarded the Ph.D. in 1996 through Göteborg University, Sweden.
As head of the Marine Invertebrate section he continues to carry out taxonomic, systematic and phylogenetic studies on polychaete worms (marine bristle-worms), curating and managing the marine invertebrate collections (excluding molluscs), and carrying out biodiversity and distributional studies of the benthic (sea floor) invertebrates of the Irish Sea. Amongst other opportunities to represent the museum in marine biological circles, he is the Secretary/Treasurer of the International Polychaete Association, a member of the International Union of Biological Sciences (IUBS) liaison group, and is on the steering committee of the Marine Life Information Network (MarLIN).
Current projects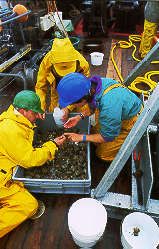 Team leader (Wales) on the INTERREG South West Irish Sea Survey (BIOMÔR 3). The first author for the BIOMÔR 1 (and, in prep., 2) publications. In 1998, in collaboration with Countryside Council for Wales & University College, Swansea, embarked on a benthic survey of the bays and rias of SW Wales (BIOMÔR 4).

Collaborating with Drs Fredrik Pleijel (Muséum National d'Histoire Naturelle, Paris) and Greg Rouse (University of Sydney) on the morphology, taxonomy and phylogeny of the Aberrantidae. Also collaborating with Dr Alexander Tzetlin (University of Moscow) on the internal morphology of Adercodon pleijeli.

Over next 4-5 years will be working on taxonomic problems concerning the European Spionidae. This will culminate in the publication of a Linnean Society Synopsis on the family and related taxa.
Tel: +44 (0)29 2057-3311
E-mail Andrew Mackie
---
Expertise and interests
Graduated in Marine Biology from University of Wales Bangor in 1995 and subsequently obtained an M.Sc. from Heriot-Watt University, before joining the section in 1997. Familiar with gel electrophoresis methods and identification of dinoflagellate cysts.
Current projects
Working on the curation of the marine invertebrate collection and the curation of material brought back from the recent South West Irish Sea Survey and the recent South West Wales Survey. Also assisting with BIOMÔR 2 (The benthos south-west of Aberystwyth, 1991: 'The Gutter' revisited after 70 years) publication.
Tel: +44 (0)29 2057-3222
---
Expertise and interests
Katie Mortimer graduated from the University of Wales, Swansea in 1998 with a degree in Marine Biology. This was followed by a Master's degree in Environmental Biology, also from Swansea, in 1999.
Current projects
Assisting in the curation and sorting of Marine benthic samples within the Marine Biodiversity section.
Tel: +44 (0)29 2057-3246