Associated Collections
The Librarian is also the Honorary Librarian of three societies: the Cambrian Archaeological Association, the Cardiff Naturalists' Society and the Monmouthshire Antiquarian Association.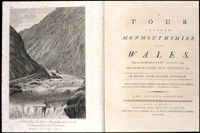 Cambrian Archaeological Association
This library has developed mainly by exchanging its journal Archaeologia Cambrensis with a number of similar organisations, both at home and abroad.
See the Cambrian Archaeological Association website.
Cardiff Naturalists' Society
A number of the international journals are received on exchange, and are an important supplement to what the Museum's Library takes in this field. As CNS no longer produces a regular journal to exchange, Amgueddfa Cymru — National Museum Wales itself has in some cases begun either to subscribe to or exchange with some societies that have withdrawn their link with CNS, in order to maintain key journals.
See the Cardiff Naturalists' Society website.
Monmouthshire Antiquarian Association
A collection of archaeological books and journals is housed with the Museum's small library in the National Roman Legion Museum in Caerleon.
See the Monmouthshire Antiquarian Association website.