Bronze Mirror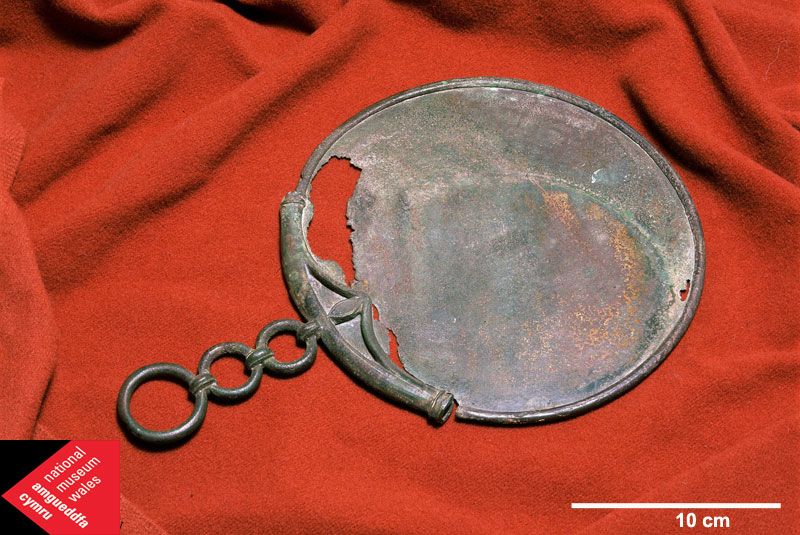 This mirror was discovered in about 1860 at Pont Fadog, near the farm of Llechwedd-du Bach near Harlech, Gwynedd. Also found with the mirror was a tinned bronze platter.
Bronze mirrors were high value personal items during the Late Iron Age (c.50BC-AD50). They have been found accompanying high status female burials in southern Britain.
At the time of its discovery no skeleton was recorded and the question of whether the Llechwedd-du finds were found in a woman's grave will remain unanswered.
It is likely that mirrors held a symbolic and ritual significance. The reflection created by the shiny metal may have been seen as a link with the 'Other world'.
Often, the reverse sides of these mirrors were carefully engraved with beautiful flowing designs. These are some of the most stunning examples of Late La Téne art, sometimes known as the 'mirrorstyle'. The design outlines were created with a pair of compasses, whilst some of the voids were emphasised by cross-hatching pattern.
Although the Llechwedd-du mirror is undecorated, the handle design allows for comparison with well dated examples of the Late Iron Age. But its association with a Roman platter suggests that the two objects were buried during the early decades of Roman occupation in Wales (AD30-75).
The mirror is similar to a present day hand mirror. The maximum diameter of the mirror plate is 206mm and the maximum length of the mirror is 296mm. The handle is 100mm long and the mirror weighs 419.4g.