Glass Beads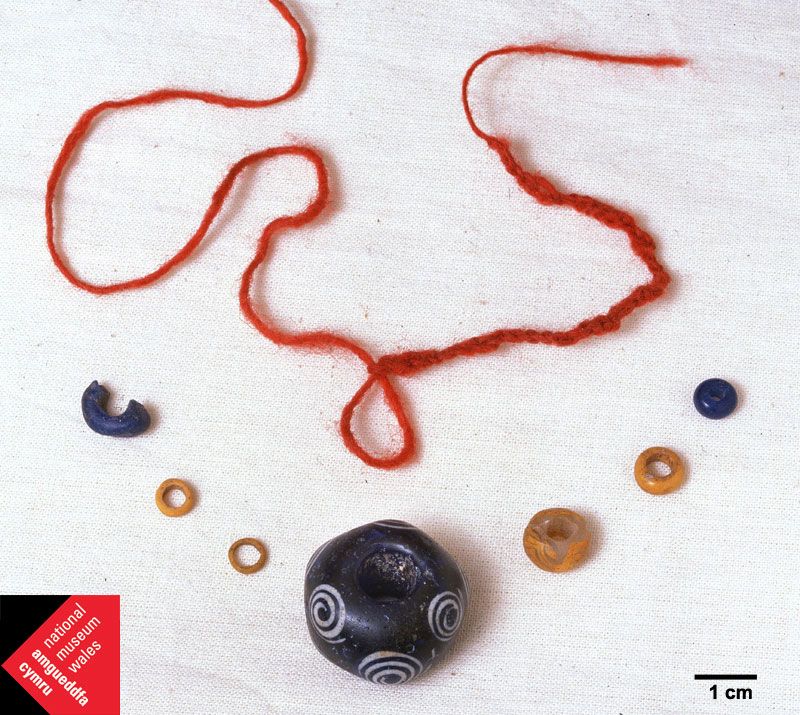 This group of five small glass beads were discovered during archaeological excavations in the 1960s and early 1970s at the Iron Age hillfort of Twyn-y-Gaer, near Abergavenny, Monmouthshire. The largest yellow bead is a chance find from Glanbidno Uchaf, near Llangurig, Powys.
The glass beads from Twyn-y-Gaer are dated from between the fourth to the first centuries BC. Chemical analysis shows that they were probably made at glass workshops at the Meare Lake Village site in Somerset. The opaque yellow colour in some of the Twyn-y-Gaer beads was created when oxides of the metals antimony, lead and iron were mixed into the glass. These beads were made to a standard size by winding molten rods of glass around an iron rod. Others may have been made in clay moulds.
The Glanbidno-Uchaf bead is likely to have been an exotic import from the Continent, during the Late Iron Age (c. 200BC-AD0). The glass is coloured with cobalt blue and the spirals were created by trailing thin, molten, white glass rods onto the bead surface.
Glass was a new and highly valued material at this time. Its main use in Britain was for personal decoration rather than for windows and drinking containers. Beads have been found in female burials from Iron Age Britain and could have been used as necklaces or pendants.
Blue and yellow glass beads made at Meare have been discovered on Iron Age sites in south Wales. Social and trading links across the Severn Estuary are demonstrated by the distribution of these beads.
The biggest yellow bead is about the same size as a Malteser, whilst the smallest beads are about the size of Tic-tacs.