Cauldron from Llyn Fawr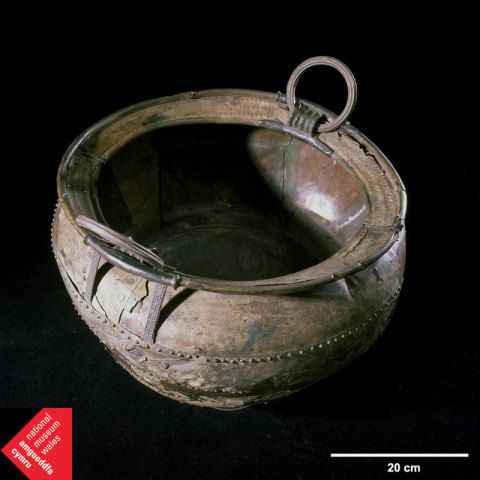 This cauldron was discovered in 1913 buried in peat at the bottom of the lake at Llyn Fawr, Rhigos, Rhondda Cynon Taff.
The discovery by workmen was made as peat was being removed from the drained lake, in order to deepen it for use as a reservoir.
The Llyn Fawr hoard includes a number of chisels, sickles and socketed axes, a sword, a spearhead, a razor and horse harness equipment. They date to the beginning of the Iron Age (c.750-600BC).
Cauldrons were used for cooking food, especially during feasts. They were also regarded as ceremonial possessions, invested with symbolic powers of regeneration and fertility.
This cauldron is made of bronze hammered out into four flat sheets with a circular base-piece. They are joined with bossed, bronze rivets. The cauldron could be suspended by means of a pair of circular handles.
These artefacts were buried in a complete, rather than a broken state, and many were items of the highest quality, some of which originated in other parts of Britain and the Continent. Could this material have been a gift to the deities of the 'Other world'? The reflective lake waters may have been seen as a boundary between two worlds.
The Llyn Fawr hoard is extremely important because it illustrates the cross over between the Bronze and Iron Ages. It is unusual because of the mixed styles of objects that suggest a wide range of origins. Indeed on the British scale the name Llyn Fawr is given to the period of time dating from 750-600BC.
Some of the earliest iron objects made in Britain are included in this hoard, such as a sickle and a sword. We do not know where the iron was being mined or smelted. A local source of ore is possible.
The Llyn Fawr cauldron is so big that you can't get your arms around it. It measures 352mm in height and the metal is 1-2mm thick. It weighs 7580g.