Tal-y-Llyn Plaque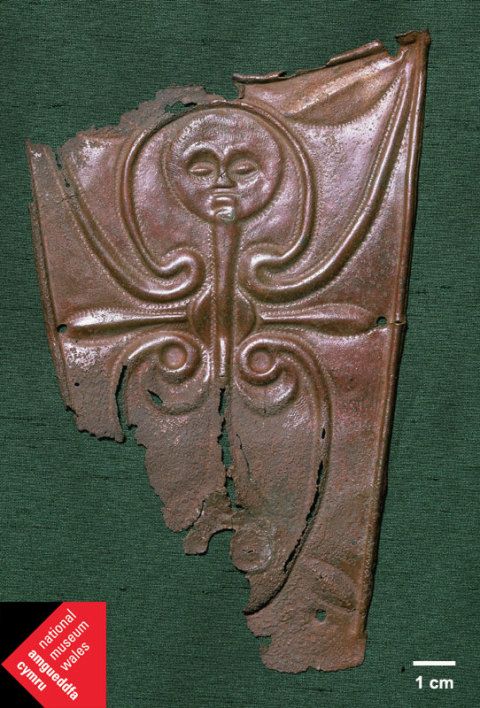 The plaque was found in 1963 on the slopes of Cadair Idris near Tal-y-llyn, Gwynedd by picnickers. The plaque was part of a hoard of tightly bundled metal objects, which had been placed beneath a boulder.
The hoard also contained fragments from two shields, decorated plates possibly from a ceremonial cart and part of a Roman lock.
This trapezoid shaped plaque is one of a pair. They are decorated with a design composed of an opposing pair of human faces, linked by a common neck. The faces have staring eyes, and finely combed hair, an image of striking quality. The head was widely venerated by the Celts. Could the Tal-y-llyn plaques represent a deity?
Perhaps this was a hoard of scrap metal. Or was it a votive offering in response to an advancing Roman army?
The plaque is made of brass, an alloy of copper and zinc. Brass production was a Roman technology. Objects of brass entered Britain before the Roman invasion and these could be formed into artefacts of Iron Age style.
The plaque is about the length of a pencil and is very fragile.
The Llyn Fawr hoard is extremely important because it illustrates the cross over between the Bronze and Iron Ages. It is unusual because of the mixed styles of objects that suggest a wide range of origins. Indeed on the British scale the name Llyn Fawr is given to the period of time dating from 750-600BC.
Some of the earliest iron objects made in Britain are included in this hoard, such as a sickle and a sword. We do not know where the iron was being mined or smelted. A local source of ore is possible.
The Llyn Fawr cauldron is so big that you can't get your arms around it. It measures 352mm in height and the metal is 1-2mm thick. It weighs 7580g.