Pen Dinas Hillfort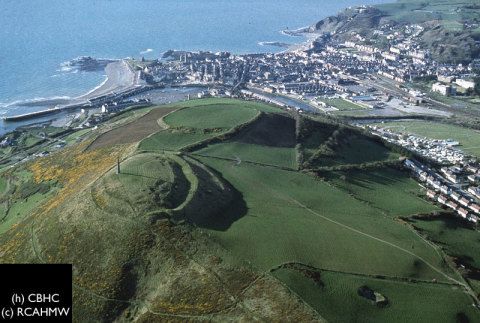 Pen Dinas hillfort overlooks the sea from a ridge of high ground between the Rivers Rheidol and Ystwyth, and above the town of Aberystwyth in Ceredigion.
It is one of the largest and most important hillforts in west Wales, enclosing an area of 3.8 hectares, defined by massive rampart and ditched defences.
Excavations of the site, between 1933-37, improved our understanding of this complex hillfort. The evidence suggests intermittent occupation during the Iron Age.
An early fort, enclosing 1.6 hectares, was located on the northern knoll and defended with a timberrevetted earth rampart and a ditch. This was replaced by a similar sized fort on a second knoll to the south, with a stone-revetted rampart. Finally, defences were built around the whole of the ridge and enclosed both earlier forts.
The excavations revealed the imposing character of the gateways, which were reshaped during three phases of fort defences. Near to one entrance, a substantial rectangular four post structure, possibly once a guard house or granary was found.
Within the south fort, twelve house platforms recognisable on the surface as depressions, provide evidence for occupation within the fort. Two of these were excavated and suggest that these timber houses were D-shaped rather than circular in plan.
The discovery of sherds of a decorated jar, with stamped comma-shaped designs below the rim, is of particular interest. The jar was made in the Malvern Hills of Herefordshire and Worcestershire some time between 300-50BC. We can tell its source from the small pieces of rock included in the clay, which only occur here.
Another find was a small glass bead worn as an item of personal adornment in the fort. It is identical to beads made at Meare Lake Village in Somerset and is further evidence of a long distance contact with this fort.
Most of the Iron Age settlements in the area around Pen Dinas are much smaller and are enclosed with single banks and ditches. Pen Dinas may have been an important trading centre or home of a local tribal leader. Unfortunately, there is not enough evidence, at present, to be confident about its precise character and use.