Tre'r Ceiri Hillfort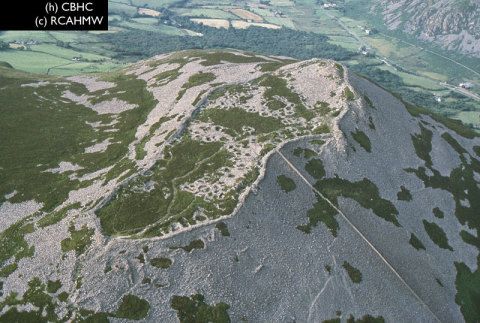 Tre'r Ceiri hillfort stands 450 metres above sea on an exposed peak of Yr Eifl on the Llŷn Peninsula in Gwynedd.
It is one of the best preserved and most densely occupied hillforts in Britain, its stone ramparts surviving in places to near full height and enclosing over 150 visible stone houses.
Early investigations in 1904 and 1906 involved the clearance of many house interiors and the discovery of a number of important artefacts. Later survey and excavation of the hillfort during the 1950s improved our understanding of the defences and of the building style of the houses here.
The earliest fort was defined by a stone wall, which surrounded an elongate area of the ridge top. It enclosed an Early Bronze Age cairn, which has been the focus of a recent excavation. The fort was entered through two main entrances, each with approaching trackways. A second outer wall was later built around the western and northern sides of the fort.
Small oval, terraced enclosures surround the fort and were probably used as stock enclosures and cultivation plots. A spring immediately outside the fort probably provided the water supply for people and animals.
House styles appear to have changed here through time: the earliest were stone built roundhouses, whilst the latest were roughly rectangular in shape. During an intermediate period, circular houses were internally subdivided with stone walls, creating two or three rooms within a single building.
The Iron Age fort probably housed 100 people living in about 20 houses. During the Romano-British period, the fort grew into a large village or small town with perhaps as many as 400 inhabitants.
Most of the finds from this hillfort, including pottery, iron tools, stone spindle-whorls and glass beads, belong to the Romano-British period (AD50-400), showing that it continued as a settlement during the occupation of north-western Wales by the Roman army.
In one of the houses, a fine and unique gold plated brooch was discovered. Its elaborate decoration is of the late La Téne art-style and it was probably made during the middle of the first century AD. This brooch is displayed in the Roman Archaeology Gallery at the National Museum Cardiff.