Museum Care: National Museum Cardiff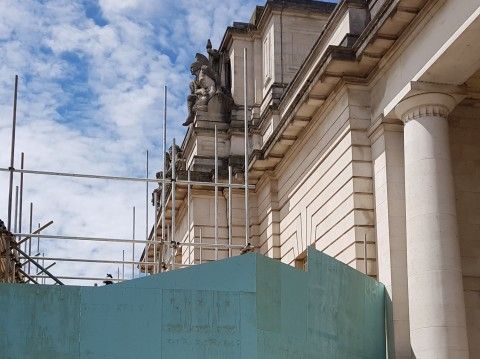 National Museum Cardiff remains open for visitors while work continues to repair the roof.
Entry is free for visitors.
For information about planned events and exhibitions, please visit our What's On pages.
Our learning programme will not be affected. Further information can be found here
The café, restaurant and shop also remain open.
What exactly is the work being undertaken?
We are carrying out essential repairs to the roof of the Museum, installing new chillers for the air conditioning system which are essential for the conservation of the national collections, and undertaking urgent electrical work. Some objects will be moved to temporary locations to enable work in the stores and galleries. This will not impact the overall visitor experience and the museum collections will be returned following completion of the works.
Why are essential maintenance works so important?
We have to undertake the repairs to protect the national collections.
The building improvements will help us to improve the care for the national collection by improving roof water tightness, fire safety and environmental conditions.
We are improving conditions in this historic building which houses 3 million objects across Art, Archaeology, Geology, Library and Natural History collections (about half of the national collection of Wales).
The whole of the first floor is dedicated to Wales's national art collections, from paintings and drawings to sculpture and ceramics. It features one of the best collections of Impressionist paintings in Britain and leading international artists of today.
Our natural history galleries house animals, birds and insects from Wales and beyond, including a humpback whale skeleton and the world's largest leatherback turtle. Visitors can discover life under the waves, travel back in time to the dinosaurs and experience Monet's garden with our new Augmented Reality experience.
@museum_cardiff #museumcare