Staff Profile
Dr Richard Bevins
Keeper of Natural Sciences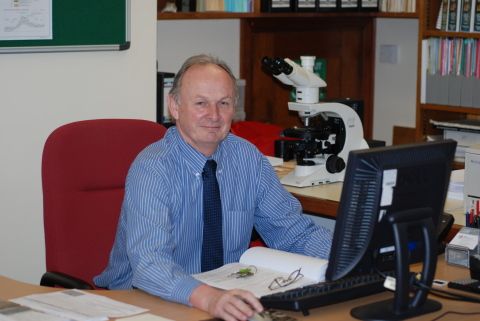 Contact Details
Dr Richard Bevins
Natural Sciences
National Museum Cardiff
Cathays Park, Cardiff
CF10 3NP
Phone: +44 (0)29 2057 3281
Staff Name
Dr Richard Bevins
Job Title
Keeper of Natural Sciences
Areas of Responsibility:
Strategic leadership for collections and research related activities in the Department of Natural Sciences.
Qualifications, memberships and relevant positions
BSc (Hons) Geology (Aberystwyth University), PhD (Keele), Fellow (Geological Society of London), Chartered Geologist (CGeol), Fellow (Society of Antiquaries of London), Honorary Lecturer (School of Earth & Ocean Sciences, Cardiff University), Chair, Geological Society of London's Geoconservation Committee, Member of the Geological Society of London's External Relations Committee, Chair of the British Geological Survey's National Geological Repository Advisory Committee.
Research Interests
Primary research area is centred on the the Caledonian igneous history of Wales and related areas, as well as on their low-grade metamorphism. More recent work has focussed on extending the petrology and geochemistry of altered igneous rocks from Pembrokeshire into a re-examination of the source of the Stonehenge bluestones.
Keywords
Mineralogy, petrology, geochemistry, igneous rocks, low grade metamorphism, bluestones, Stonehenge.
Links
Richard Bevins holds degrees in Geology from the Universities of Aberystwyth and Keele. He joined Amgueddfa Cymru – National Museum Wales as Assistant Keeper of Geology, then successively held the posts of Keeper of Collections Services and Keeper of Geology.
Between 1998 and 2006 he was the Museum's Project Leader for its new National Waterfront Museum scheme.
He is currently Keeper of Natural Sciences. In 2017 he was appointed Fellow of the Learned Society of Wales.