Staff Profile
James Turner
Digital Imaging and Access Officer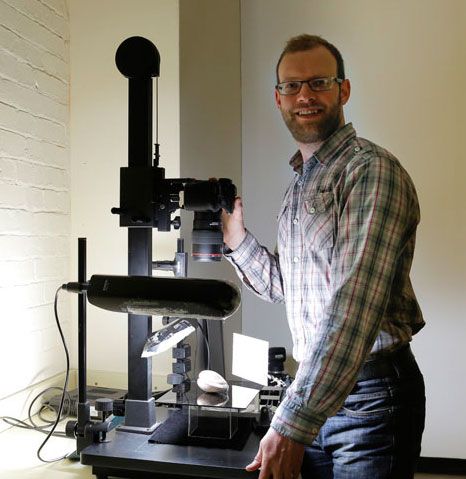 Contact Details
James Turner
Natural Sciences
National Museum Cardiff
Cathays Park
Cardiff
CF10 3NP
Phone: +44 (0)29 2057 3135
Staff Name
James Turner
Job Title
Digital Imaging and Access Officer
Areas of Responsibility:
Responsible for managing the Natural Sciences imaging laboratory. Scientific imaging using advanced digital imaging techniques including Photomicroscopy, Scanning Electron Microscopy (SEM) and 3D scanning and modelling. Design and development of web-based applications for Natural Sciences research and curation.
Qualifications, memberships and relevant positions
BSc.(Hons) Biological Imaging.
Research Interests
The application of new imaging techniques within natural science research and collections, and the implementation of large scale digitisation workflows. I also have interests in the taxonomy of deep sea bivalves of the Protobranchia group from the North East Atlantic and the biodiversity and systematics of the British slug fauna.
Keywords
Scientific digital imaging, photomicroscopy, 3D scanning (structured light, laser, photogrammetry), bioinformatics, scanning electron microscopy, database development, website development, taxonomy, systematics.
Links
Selected Publications
Jüttner I., Bennion H., Carter C., Cox E.J., Ector L., Flower R., Jones V., Kelly M.G., Mann D.G., Sayer C., Turner, J. A., Williams D.M. 2019. Freshwater Diatom Flora of Britain and Ireland. Amgueddfa Cymru - National Museum Wales. Available online at https://naturalhistory.museumwales.ac.uk/diatoms.
Rowson B., Ablett J., Gallichan J., Holmes A. M., Oliver P. G., Salvador A., Turner J. A., Wood H., Brown C., Gordon D., Hunter T., Machin R., Morgenroth H., Reilly, M. Petts R. & Sutcliffe R. 2018. Mollusca Types in Great Britain. Amgueddfa Cymru-National Museum Wales / Natural History Museum. Available online at https://gbmolluscatypes.ac.uk
Rowson, B., Turner, J.A., Anderson, R., & Symondson, W.O.C. 2014. Slugs of Britain and Ireland: identification, understanding and control. Field Studies Council, Shropshire, UK, 140 pp.
Wilson, M. R. & Turner, J. A. 2010. Order Hemiptera: Key to families of Auchenorrhyncha from the Arabian Peninsula. pp. 113-125. In: Van Harten. A (Ed.) 2010 Arthropod Fauna of the United Arab Emirates Vol. 3. 700pp
Mortimer, K., Turner, J. & Wilson, H. 2007. Outer Bristol Channel Marine Habitat Study (
including Explore the Sea Floor v3
). Research and Education DVD-ROM. National Museum of Wales, Cardiff & British Geological Survey, Keyworth.