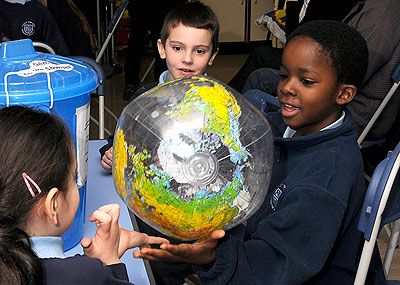 We aim to promote sustainable living through our exhibitions, events and learning programs. We also work closely with partners such as Cynnal Cymru and the Carbon Trust.
SCAN is an Amgueddfa Cymru project, which helps schools promote Education for Sustainable Development. Schools, educational groups and familes can take part in exciting investigations or download free resources. Pre-booked workshops are also available to groups visiting National Museum Cardiff.
St.Fagans is a great place to explore Welsh wildlife and to see some of Britain's most endangered animals. Visit our woodland walk and bird hide or watch or wildcams to see bats, birds and more. Events and activities for all on the 1st weekend of every month and during school holidays.
As part of the Explore Nature at St Fagans project we commisioned a couple of nature films that were filmed on site last year. We have now finished the films, which show a different aspect to the Museum.
The first film shows the wealth of wildlife that lives within the Museum grounds, while the second one concentrates on the lesser horseshoe bats that roost in the Tannery.
Exhibitions
Amgueddfa Cymru – National Museum Wales development plans will place sustainability at the heart of its key messages. At Cathays Park, the development of the Natural History Museum will makes a significant contribution to contemporary debates relating to sustainability, climate change and the loss of biodiversity. The interplay between man and the natural environment will also be one of the key themes explored in the National History Museum at St Fagans.
Travelling exhibitions offer further opportunity to explore our impact on the world. 'Biodiversity who Cares?' considers the value and threats facing biodiversity. 'Climate Change: Whats Occurring?' [PDF] looks at the potential causes and impacts of climate change.
Sustainable transport
This refers to any means of transport with low impact on the environment, and includes walking, cycling and using efficient public transport systems. The museum has started to develop a travel plan with the aim of:
Encouraging the use of sustainable travel modes for journeys to the Museum by visitors and staff.
Reducing the number of journeys made by car.
Raising awareness of travel choices available for journeys to the site.