Folk Songs
Back to Song List
The Ox–Driver's Song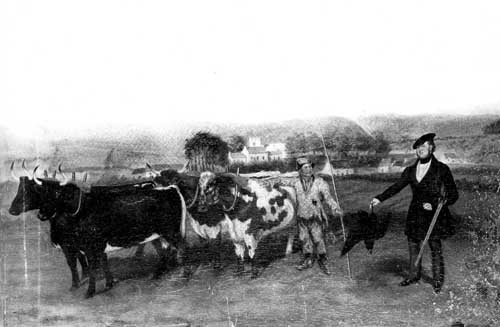 I was invited to supper
By an amiable gentleman
He served me a dead snake,
Four moles and a squirrel! Mah–hoo!

I was invited to supper
And served stewed thorns
[And] barley bread like tree bark;
I never had a better welcome! Mah–hoo!

Three things are pleasing to a boy:
The woman of the house laughing,
The little crock pot boiling freely
And a pudding-cloth brimful of pudding. Mah–hoo!

Three things are unpleasant and awkward
A sow with a yoke in [a field full of] corn
A weak ploughing team cutting a new furrow
And a pack of left-handed cobblers! Mah–hoo!

Three things are easy to know:
A man, an oak tree and a day
The tree [is] hollow, the day turns
And the man [is] deceitful. Mah–hoo!
SFNHM Tape 4. Collected September 1953, from Robert Thomas (farmer, b. 1865), Twynyrodyn, near Wenvoe, Glamorgan, who had himself sung such stanzas whilst helping to drive ploughing oxen at nearby Doghill Farm, Dyffryn, around 1878.
Notes
The text is in local dialect. For centuries some kind of musical calls have been used to urge oxen at work. Many examples have been preserved of the stanzas (together with call appended) formerly sung to oxen ploughing teams in the southern half of Wales – it was there, and in Glamorgan specifically, that oxen were last retained for ploughing Welsh soil (until around 1880). The texts of most of the oxen songs chronicled in Glamorgan are in the free metre known as triban. A large number of these are love or triad stanzas, to name but two categories, and the finest among them display rare terseness and wit. The majority are self–contained units but ox–drivers at work would naturally sing several together in series. Stanzas 1–2 above are nonsensical and 3–5 triadic.
Cf. the tune above with that of oxen songs in FWTT, 66, and 20 Alaw Gymreig/20 Welsh Melodies, ed. W. S. Gwynn Williams (?1950), 16.
Downloads
Back to Song List