Folk Songs
Back to Song List
Awake! Head of the Family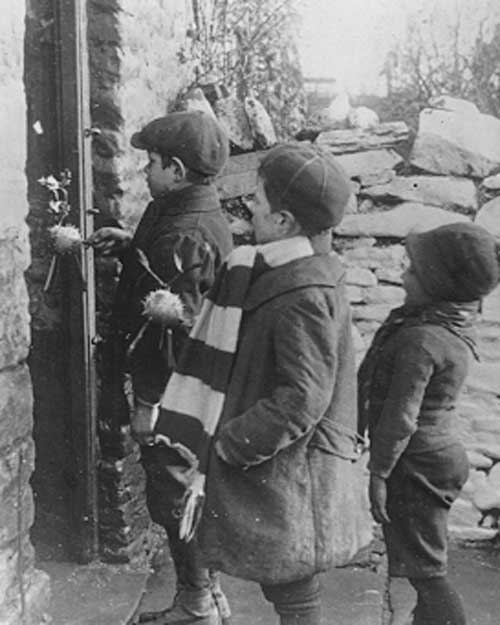 Awake! head of the family,
Here is the New Year
I Come home
Within the doors.
Doors (are) locked,
Bolted
For the night:
O dear gentle mistress,
Listen to our plea;
We are but young children,
Let us into the house;
Let us quickly
Or we flee.
Give calennig heartily
To little children who haven't a penny;
A penny or a half penny,
Whichever you prefer–
A penny is best.
SFNHM Tape 610. Collected 9.8.63 from Selina Griffiths (housewife, b. 1880), Dinas Cross, near Fishguard, Pembrokeshire.
Notes
A New Year quete (begging) rhyme, learnt by the informant as a young girl around 1885–90 through hearing it sung at doors on New Year's Day by children in the upper Gwaun Valley. An abundance of short New Year rhymes has been preserved in the Welsh language, especially from south and west Wales. Presumably these represent the remnants of an age–old wassailing tradition. Although by today they have almost completely passed out of use, a few dozen still remain alive in oral tradition. Formerly, several such rhymes might be sung in series. Their message is concisely worded, their most essential concern usually being to announce the New Year's arrival, to wish the family a prosperous twelvemonth, and to solicit from it calennig (New Year's Gift). Obviously some of these rhymes were at one period sung during sleeping–hours: they call upon people to rise from bed. Custom was for young men (and men only) to sing at the doors after midnight on New Year's Eve and for children to do likewise later that morning, from rising–time through until mid–day. The calennig obtained would vary: it might just as likely be a slice of bread with cheese, or cakes and drink, as a gift of money.
For further details of Welsh New Year customs, see WFC, 41-7.
Downloads
Back to Song List